Celebrate Fall Flavors with Seafood
When it's getting cooler outside and all you want to do is curl up on the couch after a delicious meal, nothing hits the spot like delicious, fall comfort food. Often times when you think of warm fall foods, seafood dishes may not be the first to come to mind. But, we're here to show you that seafood isn't just a warmer-weather delight.
There are many delicious fish and shellfish recipes that are perfect to satisfy all of your fall food cravings. These 15 fall seafood recipes will help you savor all the flavors you crave and keep you warm through the colder months!
If you like crab cakes, then you will love this Crab Imperial from Coconut and Lime. It's simple, delicious, and made with 100% crab meat. So if you are a crab cake fanatic who searches for the crab cake with the least amount of bread cubes, crackers, or bread crumbs, Crab Imperial is going to be your new favorite dish.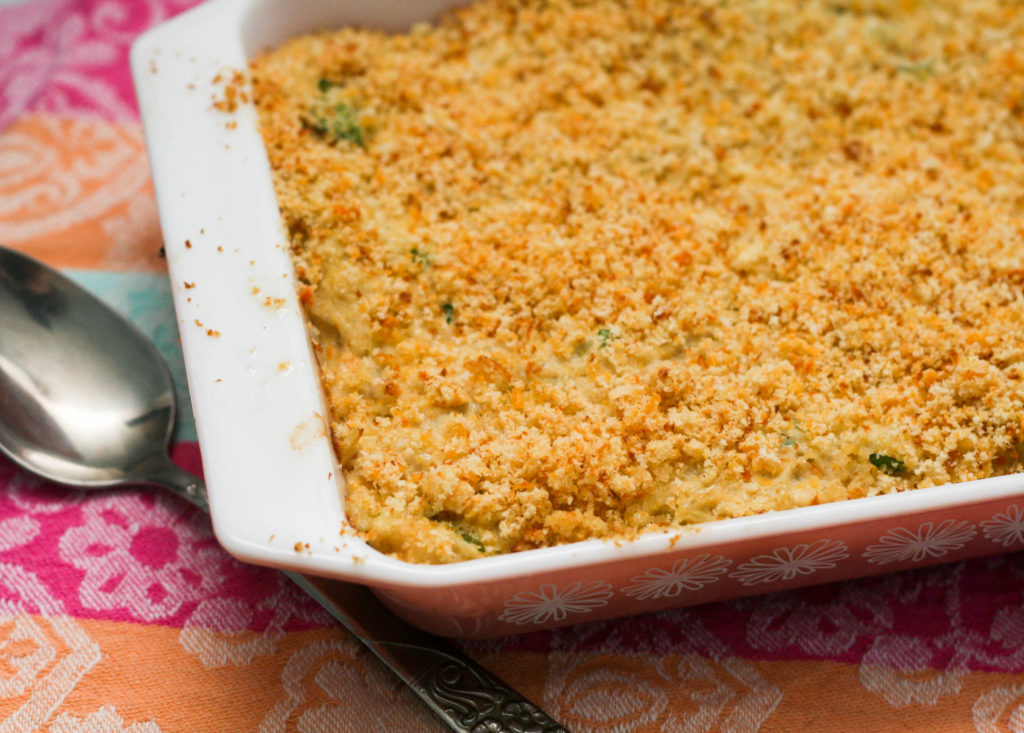 2. LEMONY LENTIL SALAD WITH TUNA OVER SWEET POTATO WEDGES
This flavor-packed Lemony Lentil Salad with Tuna from @Mallory.RDN utilizes ingredients you likely have on hand already! It's hearty, fiber-filled, and make-ahead friendly. Canned tuna is a pantry staple, and can be an easy and affordable way to add seafood into any dish.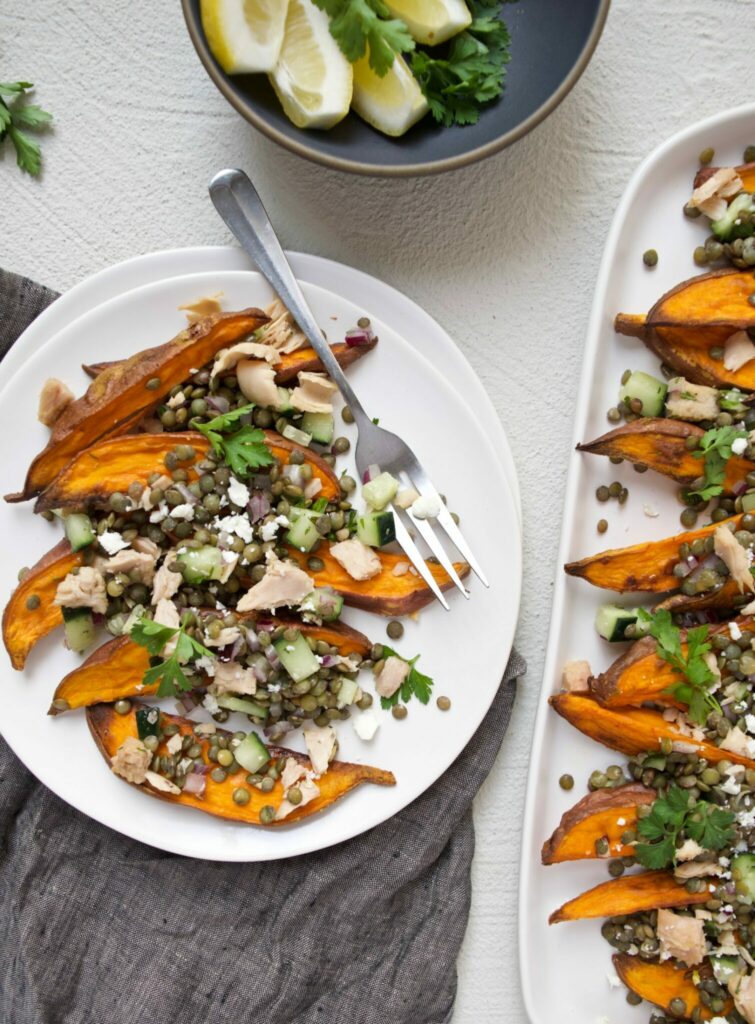 3. MAPLE MUSTARD SALMON WITH ROASTED VEGETABLES

This salmon sheet pan dish is so versatile, it's a go-to for any family menu. Sweet maple syrup and tangy mustard add bold flavor to the fish, but evoke that fall feeling and fill the house with delicious smells! Combine this salmon along with roasted vegetables for a hearty, comforting meal that is super quick and easy to make.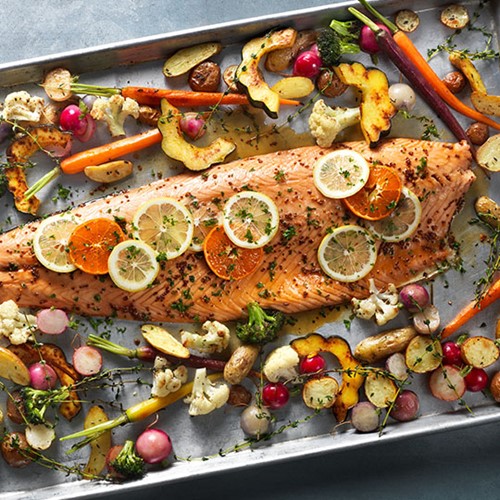 4. SMOKED SALMON CROSTINI WITH DELICATA SQUASH BUTTER

What a perfect way to celebrate with seafood this fall! These super simple – and healthy! – smoked salmon crostinis with delicata squash butter from Once Upon a Pumpkin are great for parties or for lunch!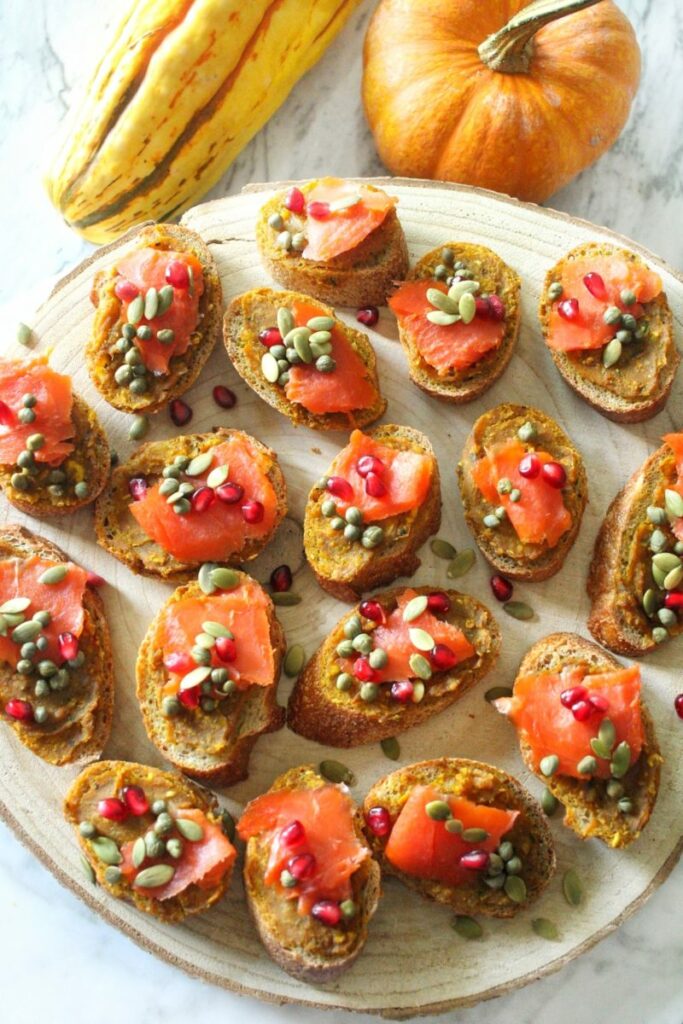 5. SEAFOOD STEW WITH BUTTERNUT SQUASH AND FENNEL
As the holidays roll around, SNP Ambassador Barton Seaver makes a big pot of seafood stew in the Italian Christmas tradition of the Feast of the Seven Fishes. This stew provides a wonderful opportunity for my family to sample a wide diversity of seafood.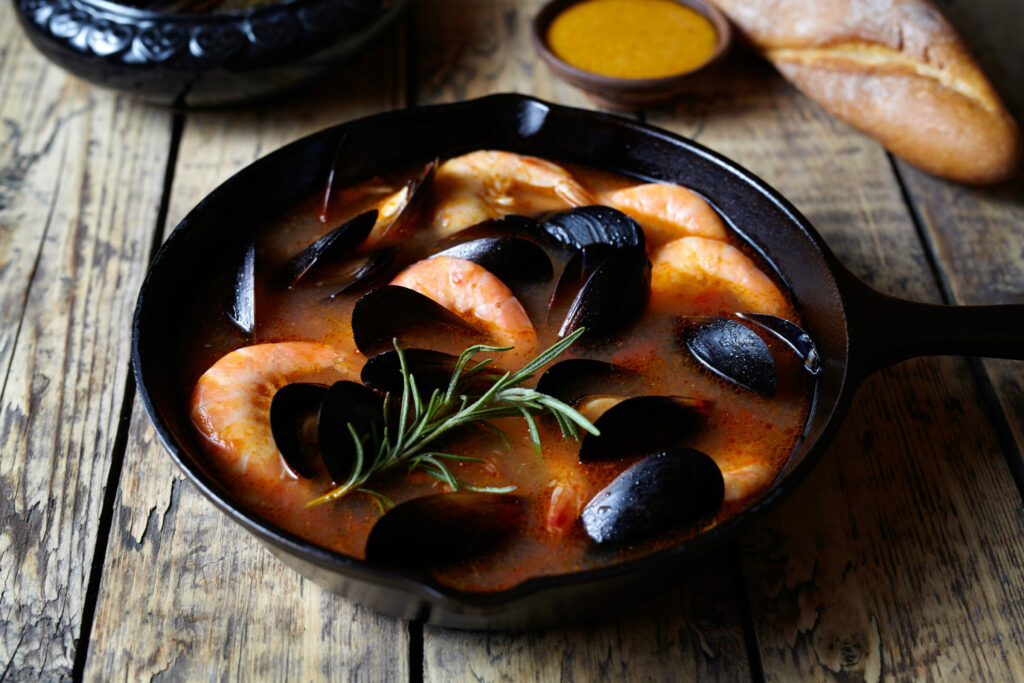 Fall is coming fast and with cool weather comes delicious squash recipes. Grab this crab-stuffed acorn squash recipe for your next dinner.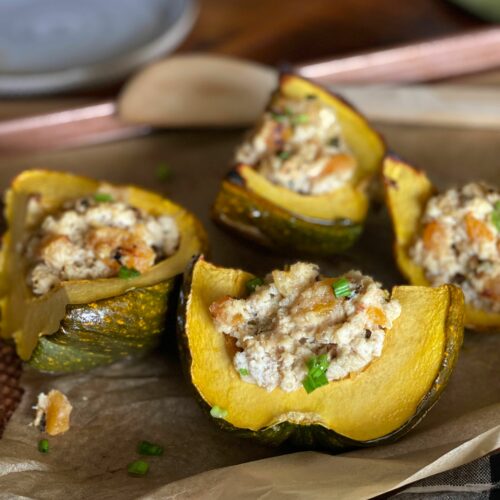 7. SEARED SCALLOPS WITH 5 INGREDIENT SHAVED BRUSSELS SPROUT SALAD

This seared scallop recipe with a 5 ingredient Brussels sprout salad from @Mallory.RDN comes together in under 20 minutes and makes for a fantastic weeknight meal that celebrates those classic fall flavors!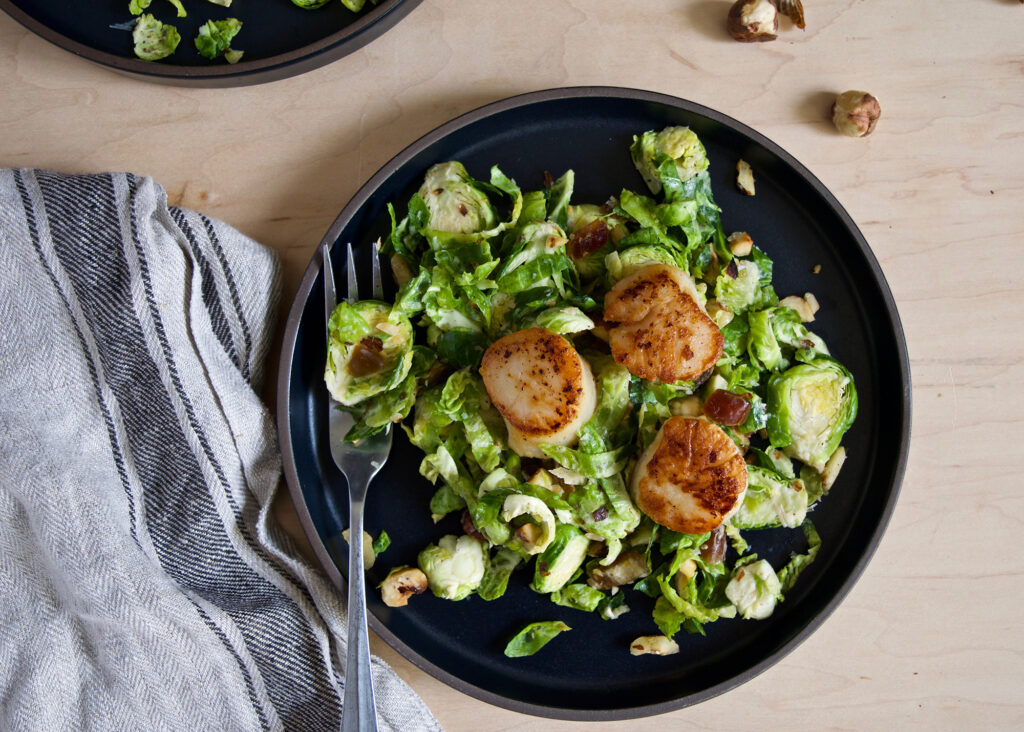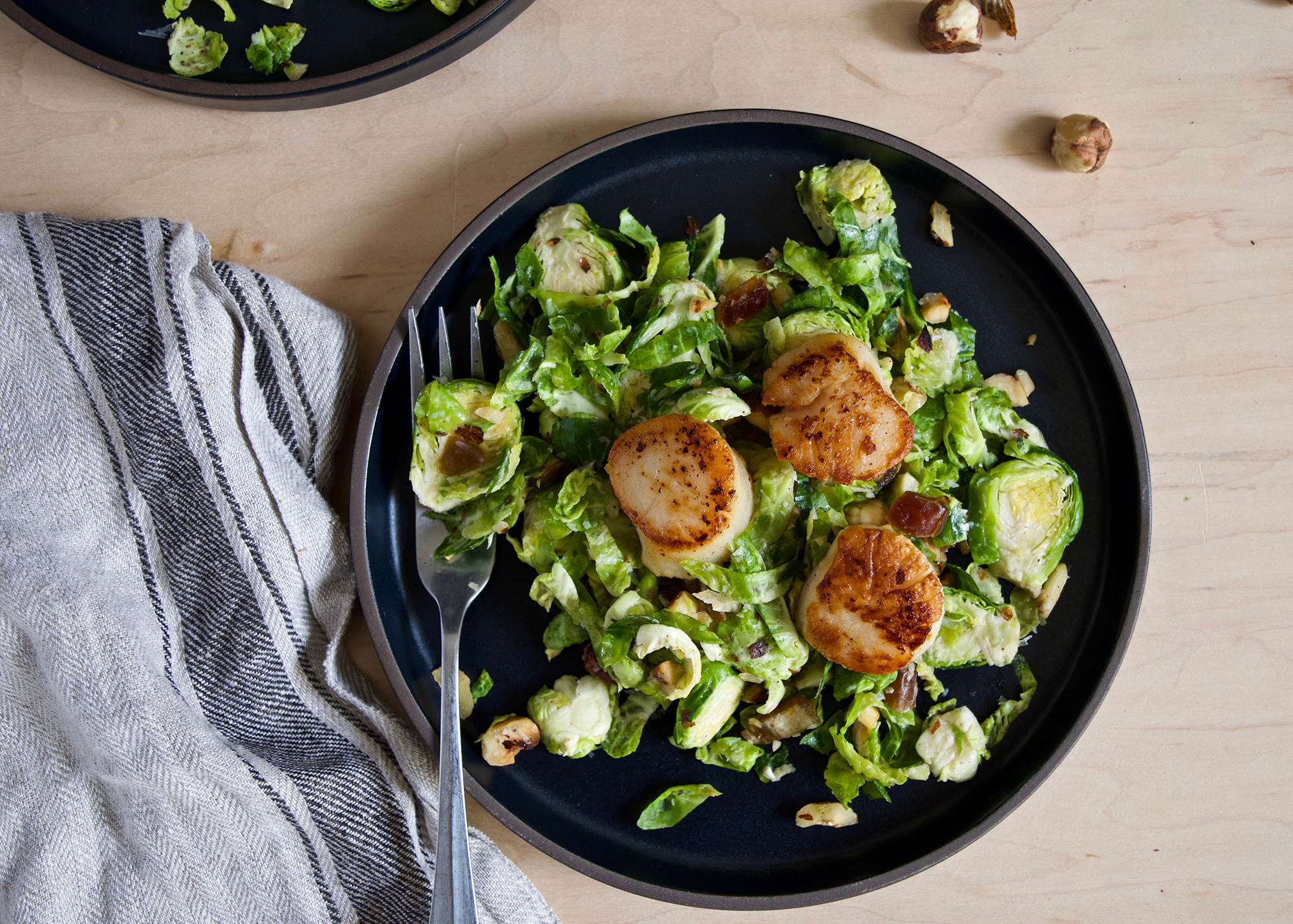 8. PUMPKIN AND SPINACH RISOTTO WITH SCALLOPS
Put a seasonal spin on a classic dish with this recipe for pumpkin & spinach risotto with scallops developed by Maggie at Once Upon a Pumpkin. It's the perfect for a cozy night in on a brisk fall night.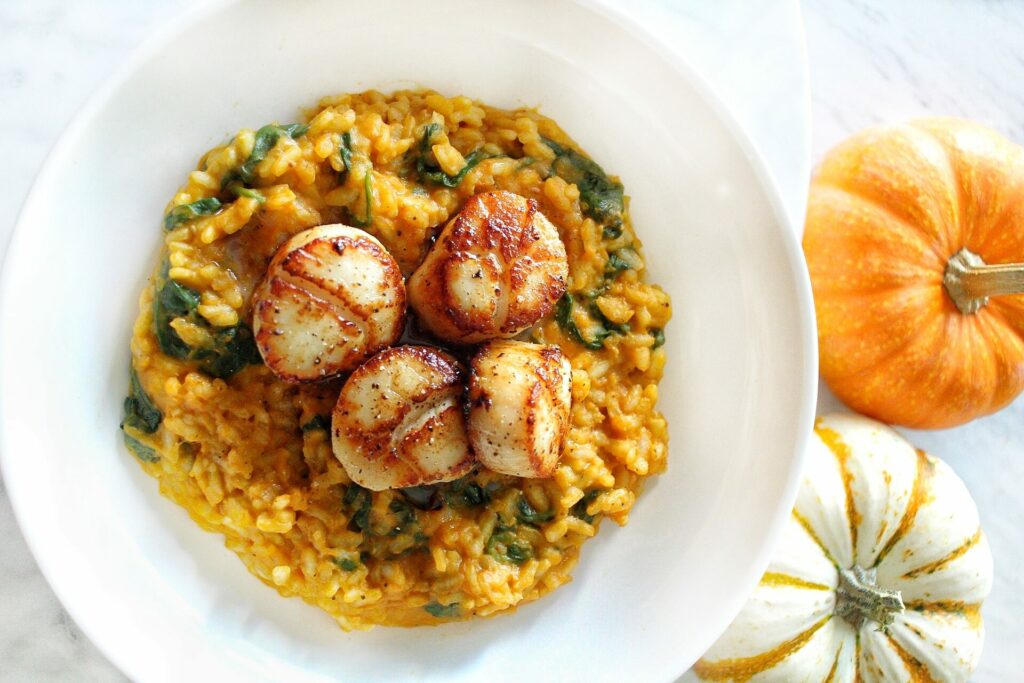 9. PUMPKIN SEED-ENCRUSTED BARRAMUNDI SANDWICH

Mussels in Garlic Broth is an easy make-at-home recipe that wins on presentation, taste, and especially cost. The aroma from garlic, onions, basil, and thyme will fill your home and make for a delicious broth.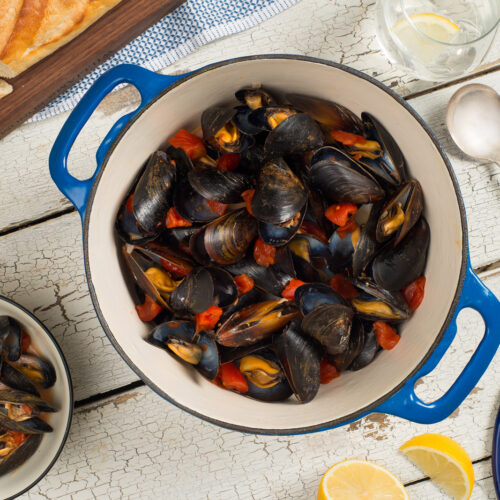 This Maple Walnut Salmon warms up the kitchen with a delicious sweet smell and tastes amazing. Packed with nutrients and omega-3s, which have heart, brain and eye health benefits, this sheetpan dish is super simple and is a quintessential fall seafood recipe.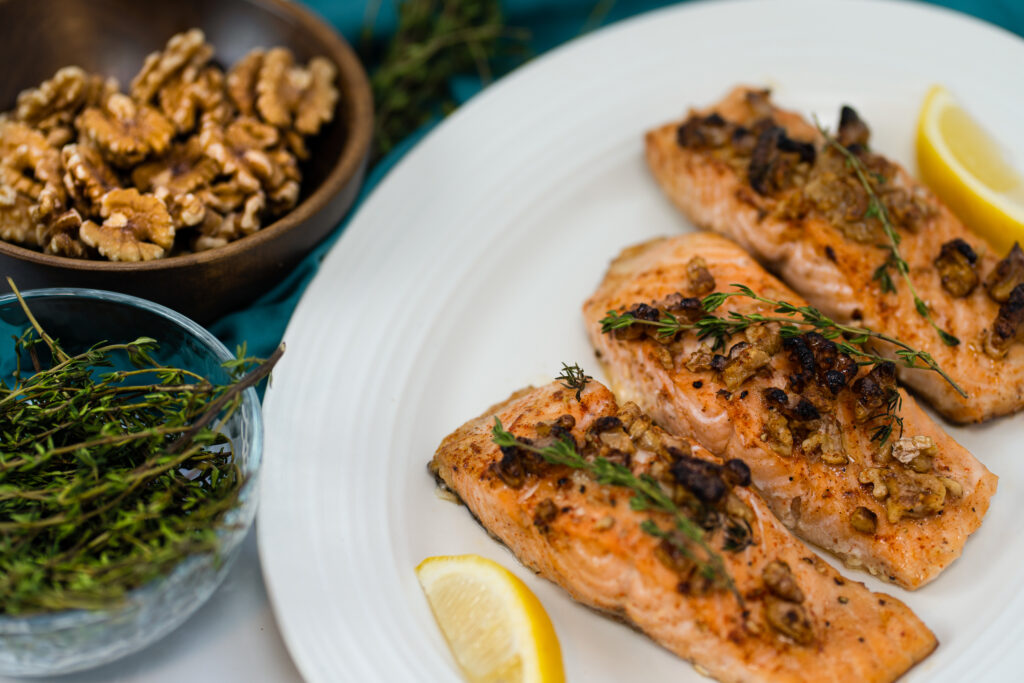 Step up your sharing platter game this fall with this Salmon Sharing Platter with fall-favorite fruit: pomegranates! It has amazing sweet and savory flavors and is super gorgeous– all your guests will keep coming back for more!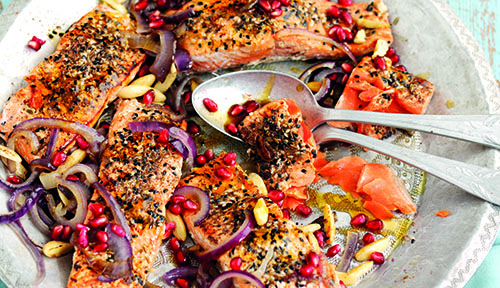 Light and fluffy, with a nice balance of fish to whipped mashed potato, this Smoked Trout Brandade is just the right amount of smoke to evoke the smells and tastes of fall.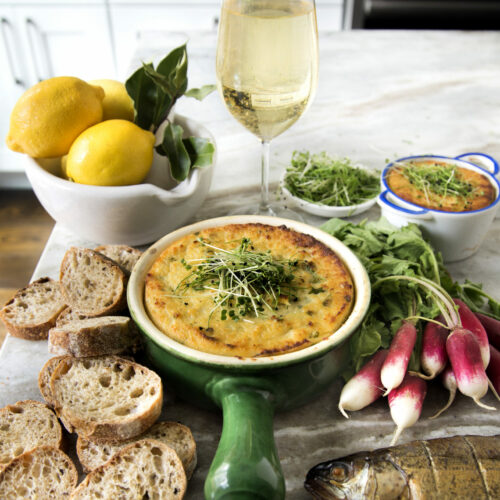 14. BUTTERNUT SQUASH RICE BOWL WITH SALMON
Can't wait for fall to get here? Now's the perfect time to get all of those fall vibes on your plate. This butternut squash recipe uses delicious, frozen, or fresh salmon for plenty of flavors. Celebrate seafood with amazing dishes like these.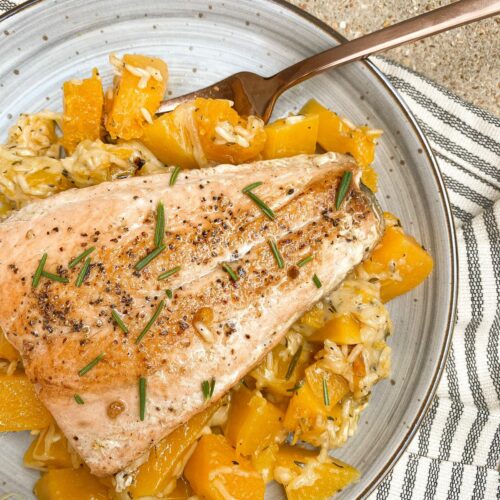 15. SEAFOOD POT PIE
Not sure it gets more New England than a seafood pot pie filled with sweet and tender shrimp and scallops. For a weeknight dinner hack, use pre-made refrigerated biscuit dough for the topping.