Health & Nutrition Professionals
SNP Programs
As you look for ways to create a culture of health and wellness and teach Americans about the importance of seafood nutrition, tap into our fun and interactive programs to support your efforts!
The lessons are a perfect fit for organizations to use within their existing curriculum, afterschool programming, community outreach, or to implement as a new program. The online programs reinforce key elements of chronic disease prevention, nutrition, and the importance of seafood for overall health and wellness.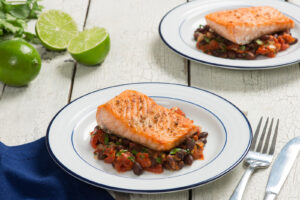 Eating Heart Healthy
Eating Heart Healthy, an interactive cooking and nutrition workshop, is Seafood Nutrition Partnership's signature program developed in partnership with Brigham and Women's Hospital and Roxbury Tenants. The program is offered in a 1-session and 4-session format. Here are links to the:
Dietary Guidelines for Americans Presentation
This presentation includes key messages from the 2015-2020 Dietary Guidelines for Americans, highlights the seafood recommendation, and provide ways health and nutrition professionals can help individuals make healthy shifts to their diet. Click to download the presentation PDF.