$3 OFF any TWO (2) Morey's Products
One coupon per purchase only on product(s) indicated.
Fine fish and seafood crafted by chefs and located in the freezer section of your grocery store.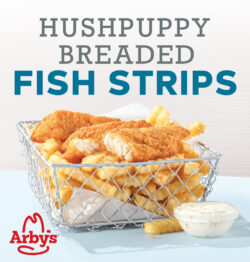 Arby's Hushpuppy Breaded Fish Strips – Limited Time Offer
These Hushpuppy Breaded Fish Strips from Arby's are likely to reel you in. And who knows? With enough demand, they might just stick around for the long haul.
10% off your order with promo code: LITTLESF
Order online at vitalchoice.com
Vital Choice is a trusted source of premium wild-caught fish and seafood from fisheries around the globe.
Red Lobster Coupons & Offers with Text Alerts
JOIN FRESH ALERTS to enjoy exclusive discounts, special offers, and more! Text REWARDS to 67766 to get started.
Red Lobster is an American casual dining restaurant chain headquartered in Orlando, Florida.
$1 off any Margaritaville Seafood item
Available in the freezer aisle of Indianapolis-area Kroger stores. One coupon per consumer.
margaritavillefoods.com
Jimmy Buffett's Margaritaville is a United States–based hospitality company that manages and franchises a casual dining American restaurant chain.
25% off your test with promo code: SNP25
Order online at omegaquant.com and learn more about the promotion here.
Omega Quant's Omega-3 Index Tests measure the amount of EPA and DHA in the blood. Studies show 8% is the optimal level of omega-3.
15% off first order with promo code: SNP15
Founded in 2020, Premier Catch is proudly women-owned and family-operated in the Pacific Northwest. They source premium, wild-caught seafood from Alaska and the Washington and Oregon coast.
Seafood for Health: Eating and Buying Seafood on a Budget
In addition to seafood coupons, learn some tips and tricks to purchasing fish on any budget with this helpful resource.