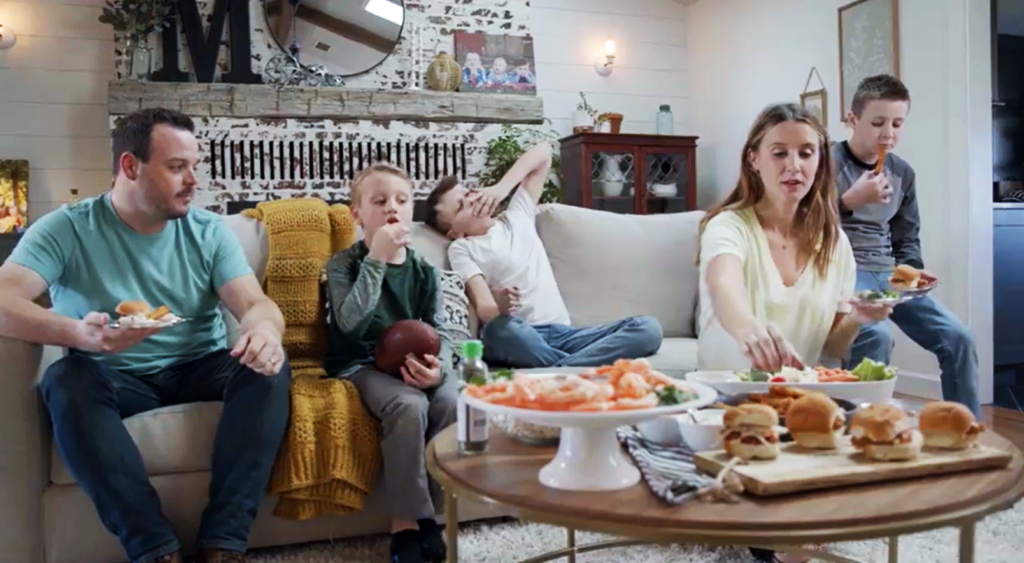 For us, the food is just as important as the game. If you're celebrating football season like we are, you're definitely tailgating. Whether you're enjoying the game at home, or out and about, be sure to bring these crowd-pleasing tailgating appetizer recipes that everyone will love. It's party time and we're celebrating seafood! Don't feel like cooking? Your local grocery store is full of simple ready-to-eat options such as buying sushi rolls or a shrimp platter from your local grocer, or heat-and-serve such as butterfly or coconut shrimp, crab poppers, shrimp spring rolls, or even beer-battered fish sticks.
Here are some of our favorite snacking options for your next tailgating adventure: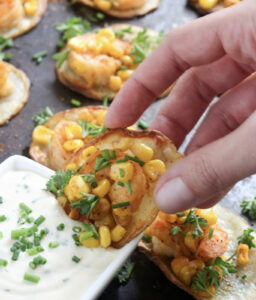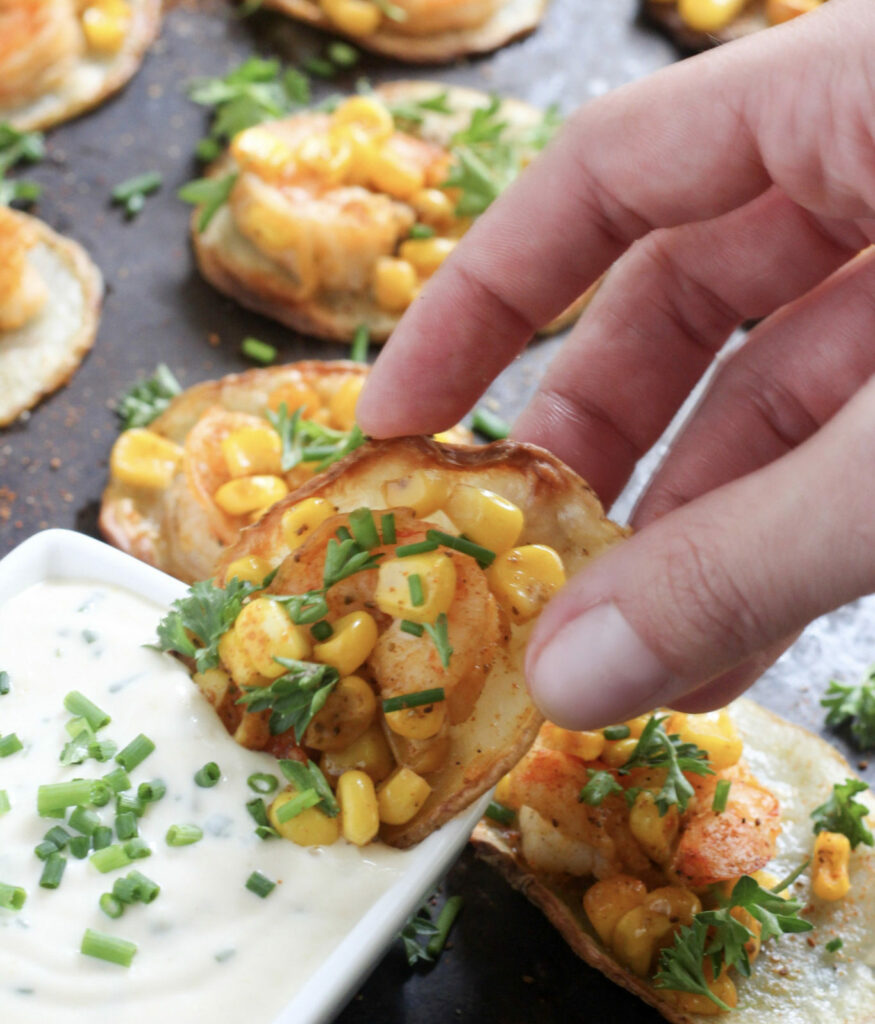 1. Old Bay Shrimp Stacks by Cara Harbstreet
Old Bay Shrimp Stacks are like a seafood boil in a bite. Flavorful shrimp and corn atop a roasted potato slice make for the perfect party-pleasing appetizer.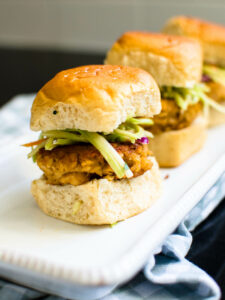 2. Buffalo Salmon Sliders by Whitney Reist
These spicy and tangy buffalo salmon sliders are the perfect dish to whip up for your next party. These crowd-pleasing sliders are packed with delicious flavors and nutrients.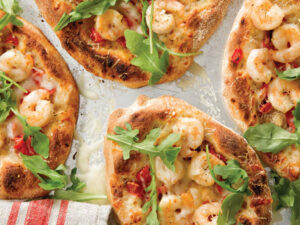 3. Salmon Dip 
This salmon dip recipe from Alexis Joseph, MS, LD, RDN of Hummusapien is easy to make, budget-friendly with its use of canned salmon, and (most importantly) delicious! Make it to impress at your next holiday or dinner party, or as a delicious dish for the family.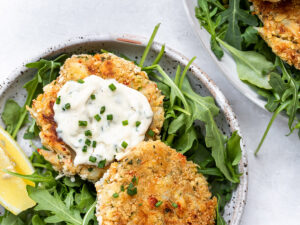 4. Maryland-Style Crab Cakes by Tawnie Graham
A Chesapeake Bay staple, these Maryland Crab Cakes are going to make you feel like you've been transported to the shore. Made from fresh lump crabmeat, scallions, and Old Bay, they are flavorful and so easy to prepare.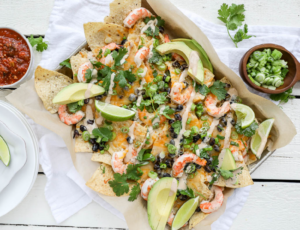 5. Shrimp Nachos by Jenny Shea Rawn
Tortilla chips loaded with shredded cheese, black beans, shrimp, avocado, scallions, and cilantro, then drizzled with ranch dressing and served with salsa and lime wedges. Ready in less than 15 minutes, these nachos are the perfect game-day appetizer.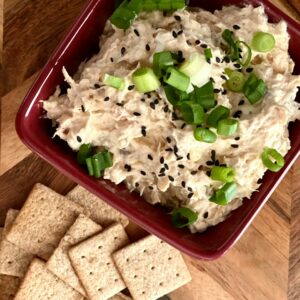 6. Smoked Sablefish Dip
Looking for a summery dish that's perfect from picnic to party? Enter this flavorful and delicious smoked sablefish dip. Using precooked, packed seafood is a simple way to create delicious tailgating recipes like this!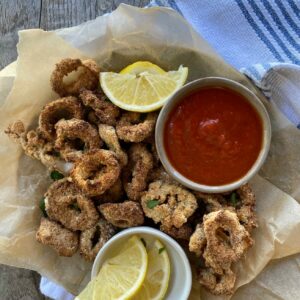 Need a Sunday afternoon appetizer for game day in a pinch? Try this healthier version of fried calamari. Stick it in the air fryer for f0r less than 10 minutes and enjoy!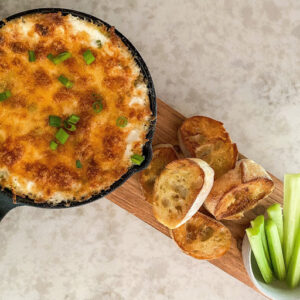 8. Creamy Crab Dip 
What's better than a delicious creamy crab dip for you and your family? Serve your creamy crab dip with crackers, chips, crostini, or even veggies!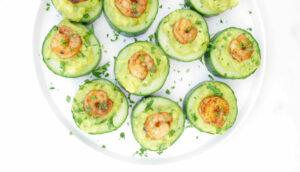 Looking for a light bite for your outdoor gatherings? Look no further than these cucumber avocado shrimp bites from Mia Syn, MS, RD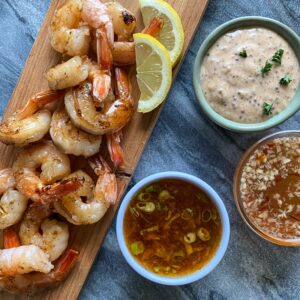 Dip it, dip it good. These three delicious dips are perfect to upgrade cooked shrimp. While there's nothing wrong with a little cocktail sauce, these three sauces are a new flavor your tastebuds are sure to enjoy.