Frequently Asked Questions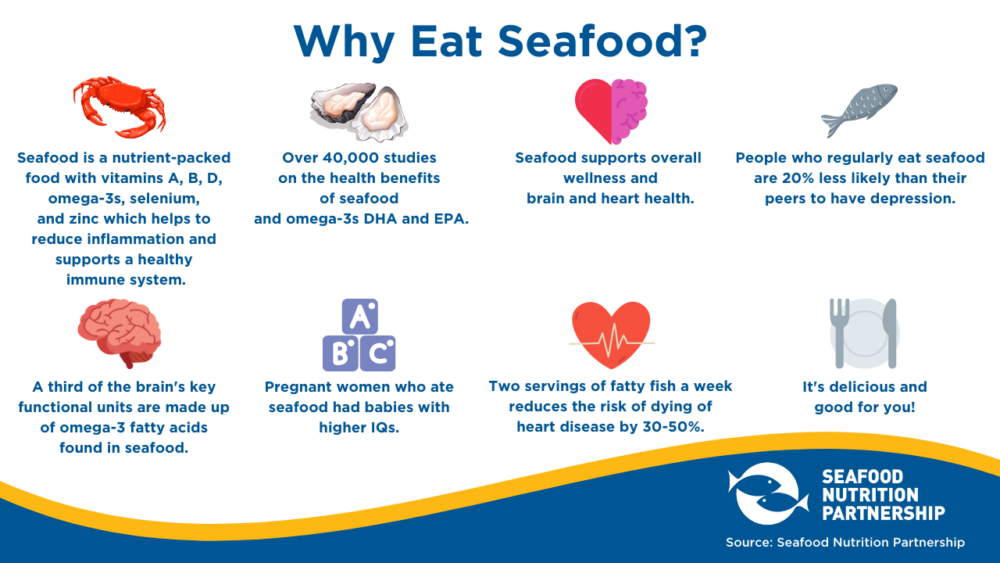 What is Seafood and What is SNP?
WHAT IS SEAFOOD?
Seafood includes any form of food from the waters, including fish, shellfish such as mollusks and crustaceans, and even sea vegetables like seaweed and algae. In the United States, that includes freshwater. And, at Seafood Nutrition Partnership, that definition must also take into account the sustainability of the food supply and the waters that provide life. Short answer: It's any way you can get the good nutrients, vitamins, and essential omega-3s that come from the sea.
WHAT IS SEAFOOD NUTRITION PARTNERSHIP?
SNP is an independent nonprofit grounded in science and guided by respected researchers, healthcare professionals, and academics, with a mission to create a healthier America through consumption of seafood. SNP addresses the biggest barriers to eating seafood — a lack of confidence in knowing how to select, buy, prepare, and eat seafood — to encourage more Americans to consume fish, shellfish, and omega-3s as part of a balanced diet.
HOW OFTEN SHOULD I EAT SEAFOOD AND WHY?
The American Heart, Diabetes, Pediatric, Alzheimer's, and Psychiatric associations — and many others — promote seafood as part of the solution to be healthier, recommending fish and shellfish at least twice a week. This recommendation, which translates to about 250 mg of omega-3s EPA and DHA per day, is based on decades of research that shows seafood at least twice a week can lead to fewer instances of chronic and preventable diseases, and even reduce the risk of death from any health-related cause by 17 percent. (source)
How do you shop, store, and prep seafood and fish?
WHAT ARE THE MOST BUDGET-FRIENDLY CATCHES?
Frozen and canned seafood can be the most budget-friendly. However, there are many seasonal and local options at the fresh counter. Ask your fishmonger and check store circulars for the best deals.
HOW DO I KNOW IF A FISH IS FRESH?
When it comes to fresh fish, here are some tips:
If it's the whole fish, gills should be reddish-pink and scales should be bright with a sheen.
For fillets, the flesh of the fish should be firm and elastic, meaning it will spring back when touched.
There should be no unpleasant odor.
For frozen fish:
The package should be tightly wrapped, and frozen solid with little or no air space between the package and the fish. (Unless the package says flash frozen.)
It should not be discolored. If there are points of discoloration, it may indicate freezer burn.
There should be no odor.
When buying shellfish:
Make sure that if they have shells, they are tightly closed, not cracked or broken.
If you are purchasing them alive, make sure they are actually alive by tapping on the shell to make sure they close.
The odor should be mild and sweet, not overwhelming or foul.
WHICH FISH HAVE THE MOST HEALTH BENEFITS?
While all fish are excellent high-quality protein options, those with higher amounts of omega-3 fatty acids are packed with the most heart, brain, eye, and overall health benefits. Try mackerel, trout, tuna, salmon, sardines, anchovies, or pollock. Some shellfish also are rich in omega-3s such as oysters, crab, and mussels.
WHAT'S A FATTY FISH?
Fattier fish have more than 5 percent fat. They have a firmer texture, a richer flavor, and deeper color. Species include black cod, mackerel, salmon, and trout. They are perfect for broiling, grilling, poaching, baking, or even microwaving.
Fatty fish are one of the best sources for omega-3 fatty acids. In fact, salmon has one of the highest amounts of omega-3s per serving.
What are some of the best ways to cook seafood?
WHAT ARE THE BEST TYPES OF SEAFOOD FOR GRILLING?
Try salmon, snapper, tuna, mahi mahi, swordfish, catfish, scallops, or shrimp — they stand up to the heat and taste delicious when grilled.
Use foil or a plank to cook delicate fish such as cod, tilapia, and flounder.
HOW DO I PREPARE FISH WITHOUT ANY ADDITIONAL FAT OR FRYING?
For lean, mild-flavored fish with tender flesh, such as sea bass, cod, flounder, grouper, haddock, halibut, pollock, or monkfish. You can steam, poach, or even microwave without adding fat.
For medium-fat fish, such as catfish, mullet, or swordfish, any cooking method will do.
For fattier fish with a firmer texture, richer flavor, and deeper color — such as salmon, mackerel, or trout — try broiling, grilling, poaching, baking, or microwaving.
IF A RECIPE CALLS FOR A WHITE FISH, WHAT DOES THAT MEAN?
White fish is generally a mild-flavored fish, so if your recipe calls for it, look for cod, bass, flounder, grouper, haddock, snapper, or tilapia. These are great for pan-frying, pan-searing, using in soups and chowders, and baking.
ARE RECIPES ON YOUR WEBSITE HEALTHY?
SNP works to ensure the recipes we feature on our website keep in mind overall sodium, fat, and calories. Seafood is delicious and should be enjoyed with healthier cooking methods. The way you cook seafood can change its nutrition composition. SNP features healthier preparation methods that may be better for your health such as broiling, baking, grilling, roasting pan-searing, and poaching — which limit the addition of extra fat and calories. Our recipes are filled with flavors from spices, herbs, and whole food ingredients to add flavor without excessive use of salt. When eating a seafood meal, balance out your plate by incorporating whole grains, fruits, and vegetables to bring out its fullest nutrition potential. To learn more, visit ChooseMyPlate.gov.
What are the health benefits of eating seafood while pregnant?
SHOULD YOU EAT SEAFOOD WHILE PREGNANT?
"Women who are pregnant or breastfeeding to consume between 8 and 12 ounces of a variety of seafood per week, from choices that are lower in mercury," says the Dietary Guidelines for Americans and the FDA/EPA guidance. The FDA and EPA agree seafood consumption is especially important for pregnant or nursing women because eating fish regularly helps with the growth and development of children's brains and even helps boost IQ. (source) Babies from moms who ate seafood during pregnancy average have a higher IQ by an average of 7.7 points. (source) Studies have shown women who do not eat seafood during pregnancy are twice as likely to experience depression. (source)
Fish are part of a healthy eating pattern and provide:
Protein
Healthy omega-3 fats (called DHA and EPA)
More vitamin B12 and vitamin D than any other type of food
Iron which is important for infants, young children, and women who are pregnant or who could become pregnant
Other minerals like selenium, zinc, and iodine
SHOULD I BE CONCERNED ABOUT MERCURY IN FISH?
For men and women not trying to get pregnant, the recommendation is to eat a variety of seafood each week to reap the range of nutrients in different types of fish, and there are no specific species you need to avoid.
The FDA and EPA released advice urging pregnant women, breastfeeding moms, and young children to consume more fish and seafood, including all of the most popular seafood in the U.S. from salmon to canned tuna. The guidance listed seven fish to avoid during pregnancy due to higher mercury: shark, swordfish, king mackerel, tilefish, bigeye tuna (does not include canned tuna), marlin, and orange roughy. (source)
Is all seafood "sustainable?"
WHAT DOES IT MEAN TO BE "SUSTAINABLE?"
Sustainable means that the seafood has been caught or farmed with minimal impact to the environment. The Seafood Nutrition Partnership is committed to the waters that provide the seafood we eat and our work is mindful of how to ensure seafood is available for future generations to come.
We are proud to have NOAA/FishWatch.gov as a partner. FishWatch.gov provides easy-to-understand facts about the science and management behind U.S. seafood and tips on how to make educated seafood choices.  Helping everyone—from chefs to consumers—understand sustainable seafood is important to SNP.
The majority of U.S. groceries and retailers have sustainability practices in place. Always buy seafood from a reputable market where the employees are able to answer your questions. They should be able to tell you where the fish is from and when it came into the store.
Learn more about sustainable seafood and find more FAQs on our sustainable seafood page.
What are the differences between farmed and wild-caught seafood?
IS FARMED OR WILD-CAUGHT SEAFOOD BETTER FOR YOUR HEALTH?
There's a glut of nutrition information circulating online and even experts have differing viewpoints. Linda Cornish, SNP founder and president, weighs in on seafood sourcing here.
How do you handle and prepare raw seafood?
HOW DO YOU HANDLE RAW SEAFOOD AND FISH?
Wash hands thoroughly with hot, soapy water before and after handling raw seafood or other raw protein foods.
Unless thoroughly iced, don't leave seafood – raw or cooked – out of the refrigerator.
Make sure that juices from raw seafood don't drip onto cooked foods; this leads to cross-contamination.
Use separate utensils for sampling and stirring. Also use clean utensils and serving plates for cooked items.
Don't reuse a dishcloth or sponge used to clean up raw juices from fish or shellfish without washing it first. Replace sponges, towels, and dish cloths frequently.
Wash counters, utensils, plates, cutting boards, and other surfaces touched by raw seafood with hot, soapy water before using them for other foods. This will prevent cross-contamination.
For more prep tips, visit HEB's site here.