Try these simple tips to help you #CelebrateSeafood and cook seafood perfectly!
Staying happy and healthy throughout the year can be a struggle. We get busy and want simple and quick meals to feed us and our family.  But, what we eat affects our overall wellness — how we feel each day from our energy level to our mood, and even our aches and pains — and ultimately poor eating practices can lead to chronic diseases such as diabetes and heart disease. This is why we should be celebrating healthy, delicious eating all year long – and seafood is a big piece of that! 
Seafood is not only delicious, but also an important tool to lift your mood each day, help improve your sleeping habits, and reduce inflammation that can lead to those chronic diseases. The Dietary Guidelines for Americans recommend eating at least two servings per week of a variety of seafood. 
If you haven't cooked much seafood in the past, people say it can be intimidating — but it doesn't need to be! Trying simple and easy recipes can make cooking and celebrating seafood exciting. Don't miss out on the health benefits of fish just because you're not sure where to start. Here are four quick tips to help integrate seafood into your weekly meals: 
Tip #1: Choose the right fish
What are you in the mood for? How are you going to cook it? These questions help you pick from the hundreds of seafood options out there. This Ultimate Guide to Buying Seafood helps walk you through those choices, and below are some quick takeaways.
Some kinds of seafood have a stronger flavor, but not all fish have a strong taste and smell profile. Generally oily fish, or fish with higher fat levels, are stronger in flavor, while those lower in fat levels are more neutral-flavored. Start by incorporating mild-flavored seafood into your meals with your favorite seasonings to figure out what flavor profile you prefer. Whitefish, including cod, haddock, flounder, mahi-mahi, and walleye along with shrimp and scallops have a nice, mild flavor that takes on the flavor profile of whatever sauce or spice you're cooking with.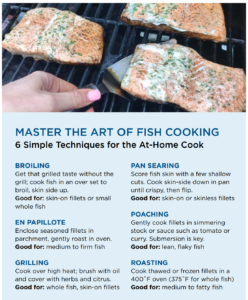 Tip #2: Master the cooking method
There are plenty of methods that make it simple to cook seafood. Try popping your fish in the oven or sautéing your filets on the stovetop. In the oven, seafood can be cooked on a baking sheet or in tinfoil pouches for easy cleanup. Fish fillets, shrimp, and scallops sauté well on the stove in a nonstick skillet with a little oil and spices.
Cooking times for seafood vary depending on the type or species. Check out our handy Ultimate Guide to Cooking Seafood and keep it bookmarked or print it out to ensure you always get the perfect dish! Fish should be tender and flaky when cooked correctly. Try inserting your fork in the center and gently twisting. If it is fully cooked, it should flake easily. A rubbery or dry texture indicates the seafood may be overcooked. Shrimp will become pink and most mollusks, such as mussels or clams, will open when steamed to perfection. Check out our simple tips below for more information.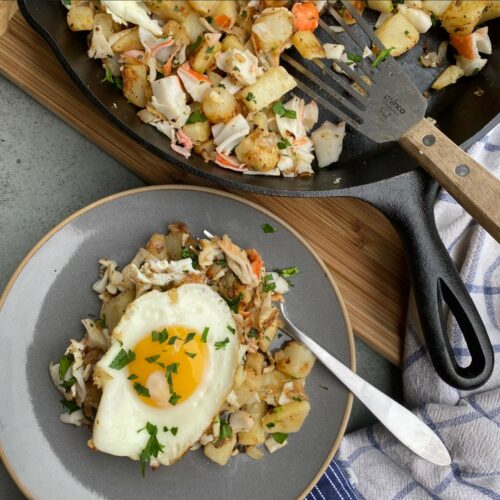 Tip #3: Up your spice game  
Adding spices or marinades to your seafood dishes can be a total gamechanger. Spice blends can be as simple as salt, pepper, and a squeeze of lemon or as complicated as blackened seasoning. Experiment with different spices and fish to find your favorite combination or try using sauces to create flavor. 
Tip #4: Incorporate Seafood into your favorite meals
Incorporating seafood into your meal plans doesn't have to be complicated and involves lots of new recipes. Fish and shellfish are very versatile and can often be used in place of chicken or beef in your favorite recipes! Adding seafood to dishes can be as easy as making shrimp tacos, salmon burgers, tuna salad sandwiches, or throwing tilapia on a salad. Use this simple game plan to help you choose delicious seafood swaps.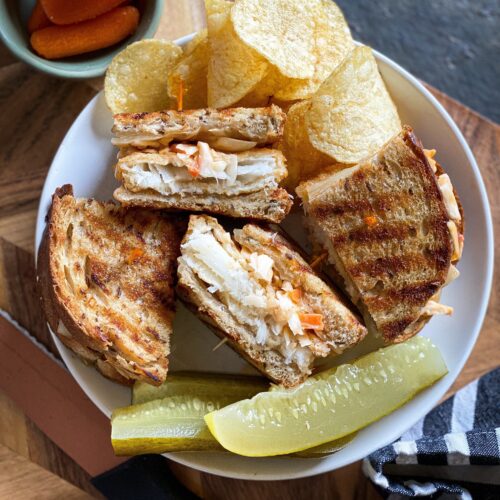 Contributed by: Abigail Lambert, Dietetic Intern