Getting kids to eat seafood can have some major benefits. From reducing anxiety to supporting academic performance, seafood consumption for kiddos is a no-brainer.
OK, I lied. There is one potential challenge. Thinking about what is typically on an American child's list of favorite foods, tilapia or lobster are normally not found on their top-five. Since eating seafood is incredibly important for a child's brain and eye development as they grow, offering these foods is something that should become habit in every home. And encouraging kids to actually eat it is key.
So, what gets kids to be more willing to eat a food that isn't coated in sugar or shaped like their favorite superhero? Try these ideas on for size: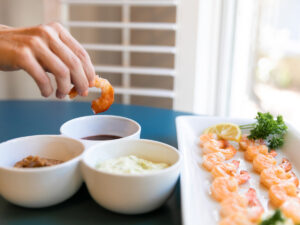 Involve your kiddo in meal prep to give him or her a sense of control.
Have your child help plan some part of the meal, measure ingredients, or even set the table.
Have lots of color on the plate.
We eat with our eyes before we eat with our stomachs. Think about it: how appetizing is a plate with a piece of white fish, white mashed potatoes, and white steamed parsnips? Not super mouth-watering, right? Combine the seafood with contrasting colors on the plate and include vivid-colored fruits and veggies as side dishes.
Offer a dip (or three!).
A variety of dips allows your child to express his or her creativity. It also allows for some control by letting your little nugget decide which kind and how much of the dip goes on the food. Lastly, dipping food is fun!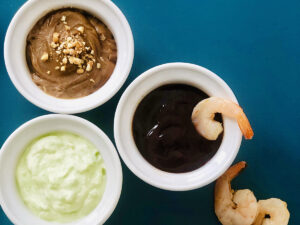 A simple dish that involves all of these suggestions is a sautéed shrimp with three dipping sauces. Yes, three! I promise, each sauce takes practically no time to make (note: it may take a little longer if you have a little sous chef "helping" you out).  Follow these recipes for a super-simple kid-friendly shrimp dish that your little ones will be sure to enjoy.
Lauren Manaker is a Prenatal Dietitian guiding the way couples nourish themselves to create healthy families.