Vegetarians and vegans can eat seafood, too. Wait, what?! Sea vegetables like seaweed and algae are also types of seafood and are great sources of iodine, vitamin K, B vitamins, iron, and zinc, along with omega-3s and with plant compounds that work together to have strong antioxidant effects. Classified as marine algae, seaweeds are fast-growing, chlorophyll-containing plants that play a vital role in marine life and are the primary source of food for a variety of creatures in the ocean.
Did you know there are dozens of seaweed farms in waters across the United States from New England to Alaska? Seaweed production and farming has seen a big boom in the past few years and has created a perfect opportunity to introduce a delicious seafood option to vegetarians and vegans! Seaweed farmers in the U.S. are producing various types of seaweed including dulse, bull kelp, ribbon kelp, and sugar kelp. 
What is kelp?
Kelp is a large, brown seaweed that typically grows in shallow saltwater near coastal areas around the world. You can eat it raw, cooked, as a powder, and it's included in a number of supplements. Because of its versatility and health benefits, kelp is typically used in sushis, sauces, salads, as seasoning and other products. 
Kelp Sustainability
Seaweed farming is also a sustainable practice, mainly because these farms help improve water quality and buffer acidification effects of the ocean which is ideal in the aquaculture world. Seaweed is not only delicious, but one of the fastest growing aquaculture sectors in the U.S.! Seaweed also has the ability to use carbon dioxide to grow, which also helps balance out high nutrient levels in surrounding waters. Being that seaweed and kelp are both fast-growing, they create excellent conditions for commercially important fish and diversity for seafood!
Check out this video from Maine Aqua about how one family decided to start seaweed farming.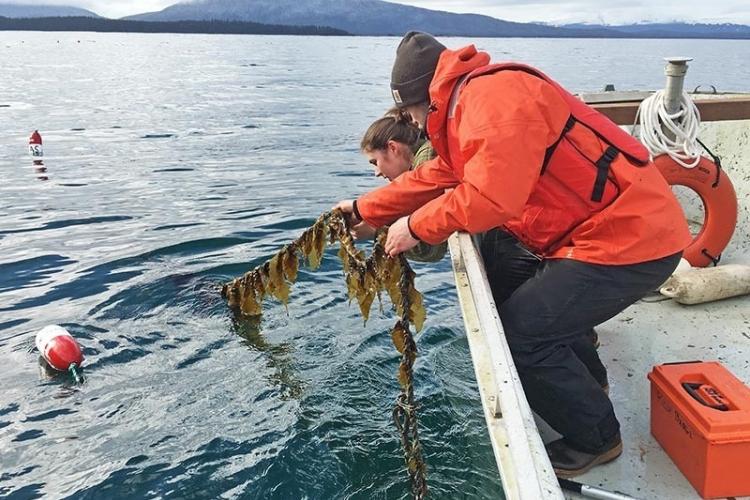 Health Benefits of Kelp
There are numerous health benefits to introducing kelp into your diet and plenty of ways to do so! Seaweed and kelp are high in antioxidants, which means they might help play a role in combating heart disease, cancer, and other diseases. They are also both high in iodine, potassium, magnesium, iron, calcium which are all nutrients your body needs to stay healthy. Did you know that iodine helps support your thyroid and a healthy thyroid supports a healthy metabolism?
Enjoy Kelp
Seaweed and kelp can be easily introduced into your diet with recipes you might already have on hand. For instance, you can now purchase seaweed pasta for your favorite pasta dish, kelp noodles for an Asian inspired dish, or even as a sauce on top of your favorite salmon fillet. There are kelp burgers, snacks such as kelp popcorn, jerky and pickles, and condiments such as fermented kelp, salsa, hot sauce, and a favorite seasoning of ours – furikake – a sesame and seaweed sprinkle for rice, soups, salads and more.
Check out this collection of kelp and seaweed recipes to see a few of the different ways you can put this superfood into your dish: