Shrimp is the most popular seafood option in America for many reasons – it's versatile, easy to cook, tasty, and a good source of lean protein. In fact, in 3 ounces of shrimp, you can find 20 grams of protein. Shrimp is also packed with vitamin B12, choline, and selenium, which helps support heart health, boost immunity and fight inflammation.
Shrimp is a simple way to have a fast and healthy dinner! If you're looking to eat a quick and healthy dinner, shrimp is where it's at! It cooks up in under 5 minutes and it's also juicy, flavorful, and seriously satisfying.
We've gathered some of our dietitian friends to bring you 20 shrimp recipes to celebrate Seafood Month!
1. SHRIMP TACOS WITH CABBAGE AND BRUSSEL SPROUTS by Kara Hochreiter at Byte Sized Nutrition
Grab a bag of frozen shrimp and have these shrimp tacos on your table in 30 minutes or less! Topped with a tangy cabbage slaw and seasoned with just the right amount of heat, these easy shrimp tacos are sure to become a weeknight favorite.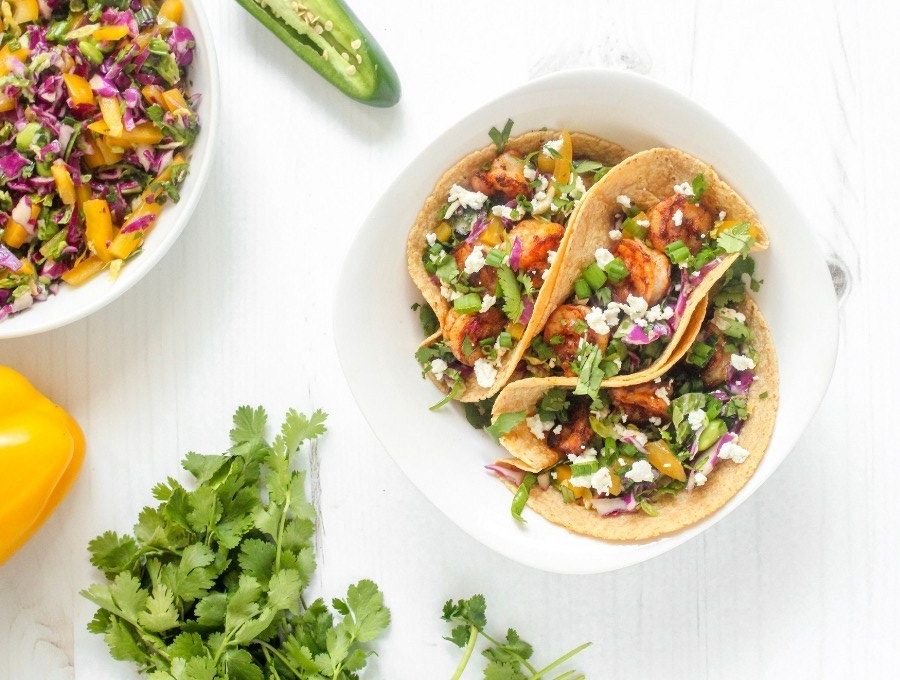 2. SHRIMP SCAMPI WITH BABY GREENS AND SORGHUM by Triad to Wellness
This Shrimp Scampi with Baby Greens and Sorghum recipe is inspired by all the classic flavors of shrimp scampi but is a dairy-free, gluten-free, lightened-up, modified version that includes vitamin-rich veggies and whole-grain sorghum to make it a more balanced meal.
3. MEXICAN SHRIMP CEVICHE by Jodi Danen of Create Kids Club
A classic ceviche recipe. Learn how to make shrimp ceviche that's cooked with lime and lemon juice & is ready start to finish in just 45 minutes.
4. SHRIMP SCAMPI ALFREDO BY Tawnie Kroll of Kroll's Korner
In this shrimp scampi pasta, shrimp and linguine are swimming in a flavorful Alfredo sauce. The Alfredo sauce really sets this simple shrimp scampi apart from the rest!.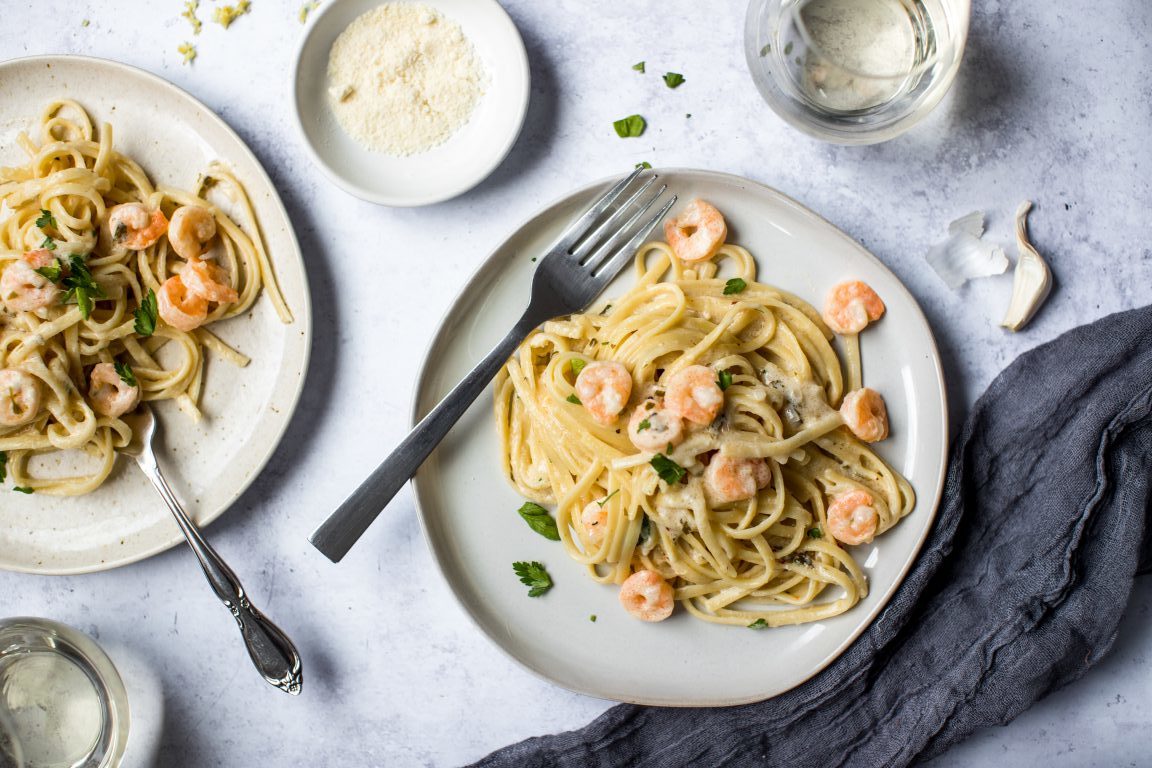 5. 4-INGREDIENT SHRIMP AND PESTO PASTA by Holley Grainger
For a fast weeknight meal that uses only 4 ingredients, Shrimp & Pesto Pasta are a definite go-to. It uses prepared pesto and refrigerated pasta to cut down on prep time so you can get your meal on the table fast with minimal cleanup.
6. SHRIMP AND VEGGIE KABOBS WITH WILD BLUEBERRY BBQ SAUCE by Kara Lydon Nutrition
Shrimp, veggies, and a homemade Wild Blueberry barbecue sauce. Doesn't get much simpler than that. This Wild Blueberry BBQ sauce is going to elevate any kabob you fire up on the grill. It's got heat, acidity, smokiness, and a subtle sweetness from the Wild Blueberries. Yum!
7. SORGHUM SHRIMP JAMBALAYA by Triad to Wellness
This Sorghum Shrimp Jambalaya is hearty, incredibly flavorful, and filled with nutrient-dense ingredients.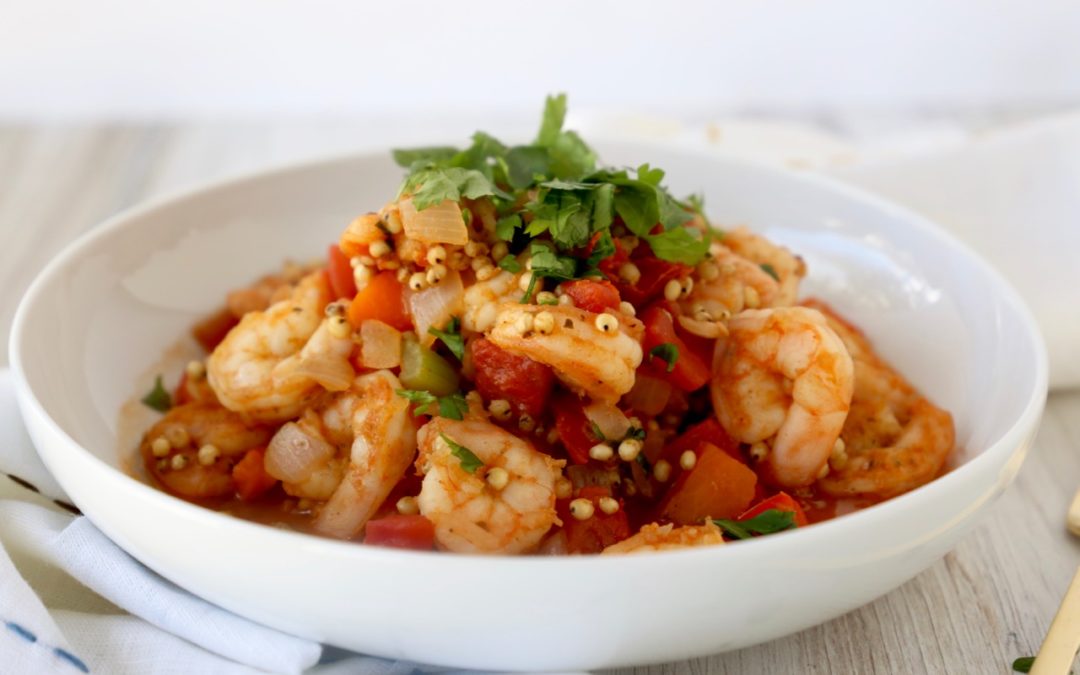 8. HEALTHY SHRIMP AND GRITS by Jill Weisenburger of Food and Nutrition Solutions by Jill
Healthy Shrimp and grits! Indeed, this Southern comfort food doesn't have to be laden with extra calories, sodium, and saturated fat. And the taste is still amazing!
9. LIGHTER NEW ENGLAND-STYLE SHRIMP ROLLS by Katie Sullivan Morford of Mom's Kitchen Handbook
If you're a fan of the East Coast classic, the lobster roll, these shrimp rolls will be right up your alley, with greater convenience and a more affordable price tag. Chives, tarragon, and sriracha flavor the filling. Fresh fennel and celery add crunch.
10. FIRECRACKER SHRIMP LETTUCE CUPS by Julie Kay Andrews of The Gourmet RD
Crispy shrimp coated in a sassy firecracker sauce stuffed in lettuce cups with coconut rice and topped with green onion and lime.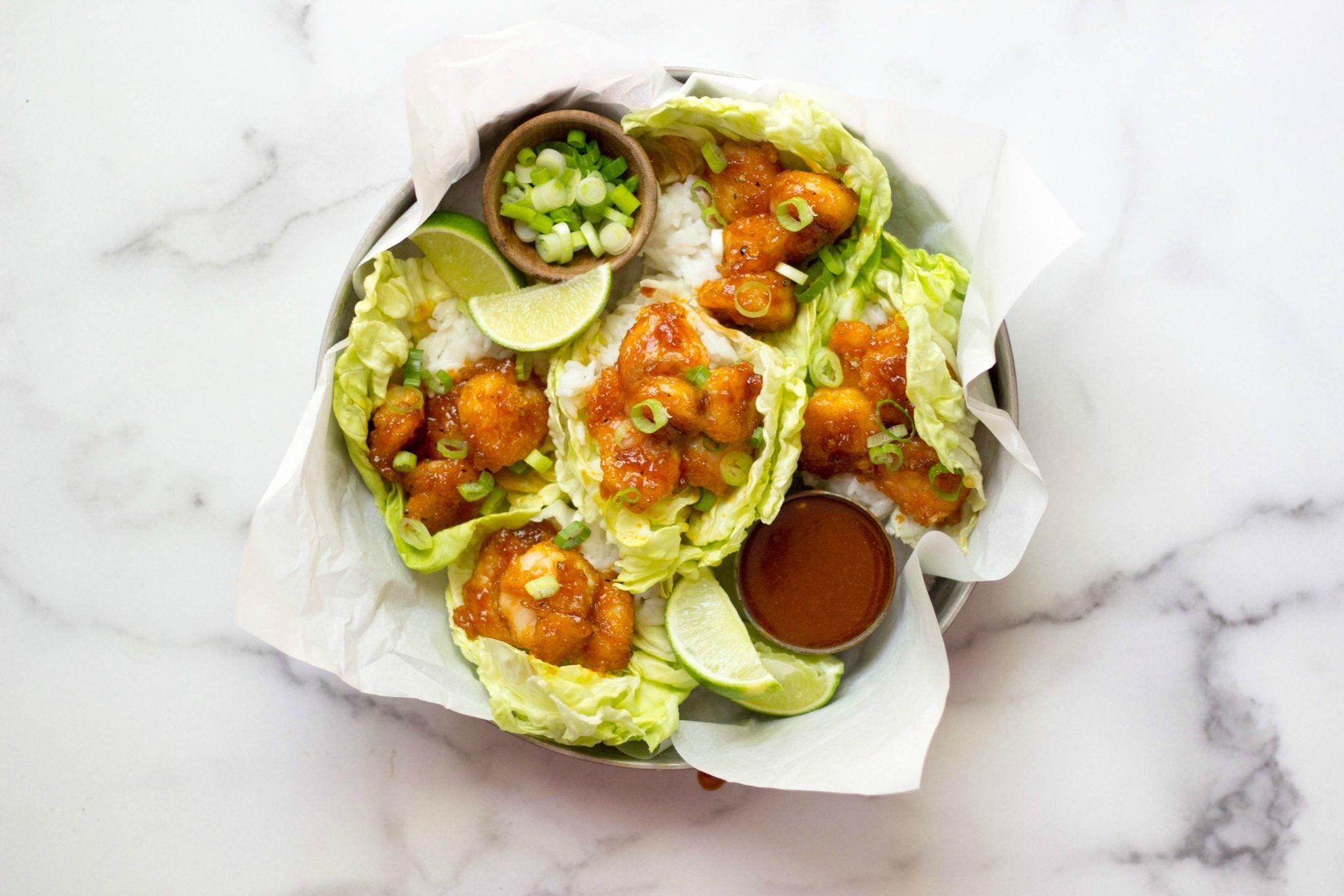 11. SLOW COOKER SQUASH, APPLE AND SHRIMP SOUP by Jodi Robinson
This warm and mildly spicy soup is creamy and comforting, making it the perfect meal for keeping warm as the weather changes. Pictured here with toasted naan bread and a dollop of plain Greek yogurt for some added protein.
12. PAPRIKA-SPICED SHRIMP AND CORN SALAD by Katie Sullivan Morford
This dish can stand alone, but is also tasty along with a fresh salad, or accompanied by taco fixings such as corn tortillas, salsa, and Cotija cheese. For heartier appetites, consider upping the shrimp to 1 1/4 pounds or more.
13. CHIPOTLE GRILLED ROMAINE SALAD WITH SHRIMP by Maggie Farley of Meals with Maggie
This chipotle grilled romaine salad with shrimp is the perfect salad! All of the ingredients nestle into grooves of the grilled romaine, which makes each bite bursting with flavor.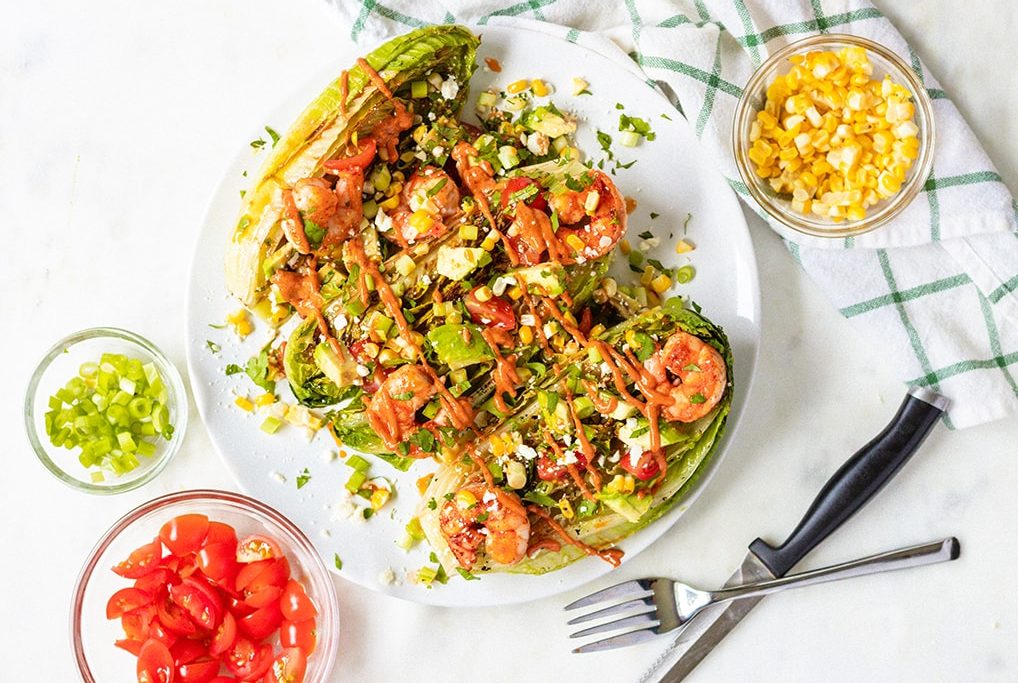 14. THAI PEANUT NOODLES WITH SHRIMP by Tawnie Krolls of Krolls Korner
This Thai Peanut Sauce is satisfying, easy to make, and a perfect meal to add to your weekly menu planning!
15. SPICY GRILLED SHRIMP KEBOBS by Brynn McDowell of The Domestic Dietitian
These Spicy Grilled Shrimp Kebobs are a simple, healthy addition to any meal. Simple ingredients and quick grilling make them perfect for weeknight or weekend cooking.
16.SHEET PAN SWEET AND SPICY SHRIMP by Kelli Shallal of Hungry Hobby
Succulent shrimp, crunchy veggies, doused in a delicious sweet & spicy sauce! This recipe will have dinner on the table in less than 30 minutes!
17. CAJUN SHRIMP AND VEGETABLE TIN FOIL PACKETS by Rebecca Clyde of Nourish Nutrition Blog
Whether you're camping or need a really easy dinner that requires zero clean-up, these super simple cajun shrimp & vegetable tin foil packets are perfect.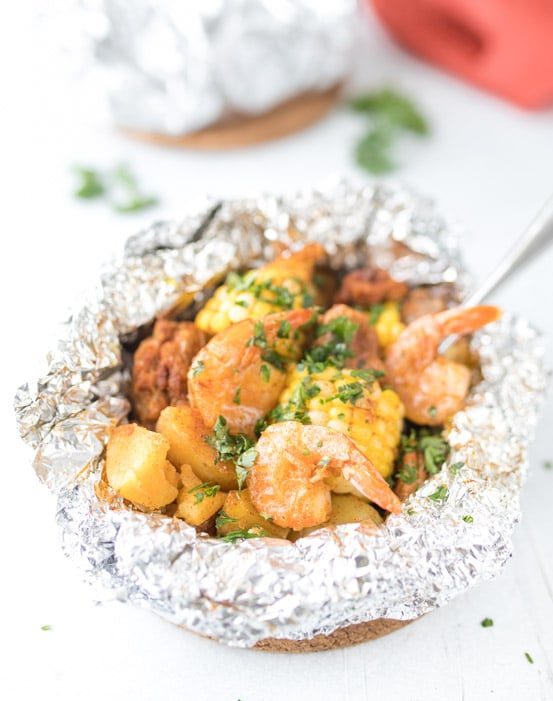 18. BAKED COCONUT SHRIMP CUPS by Emily Cooper of Sinful Nutrition
A lightened-up recipe for coconut shrimp, these baked coconut shrimp cups are an easy and delicious appetizer for your next seafood party or gathering.
19. BAJA SHRIMP BOWL by Jessica Ivey
This Baja Shrimp Bowl recipe with quinoa and black beans is a simple, flavorful option for a quick weeknight dinner or advanced meal prep.
20. SUMAC-SPICED SHRIMP WITH PEACH SALSA AND MILLET by Mallory Ubbelohde
Sumac is a citrusy, ground spice that brings a pleasantly tart hit to this shrimp bowl. All components of this meal come together while the millet cooks, which means you're 20 minutes away from a delicious weeknight dinner!