Little Seafoodies Digital Pilot Boosts Seafood Sales in Indianapolis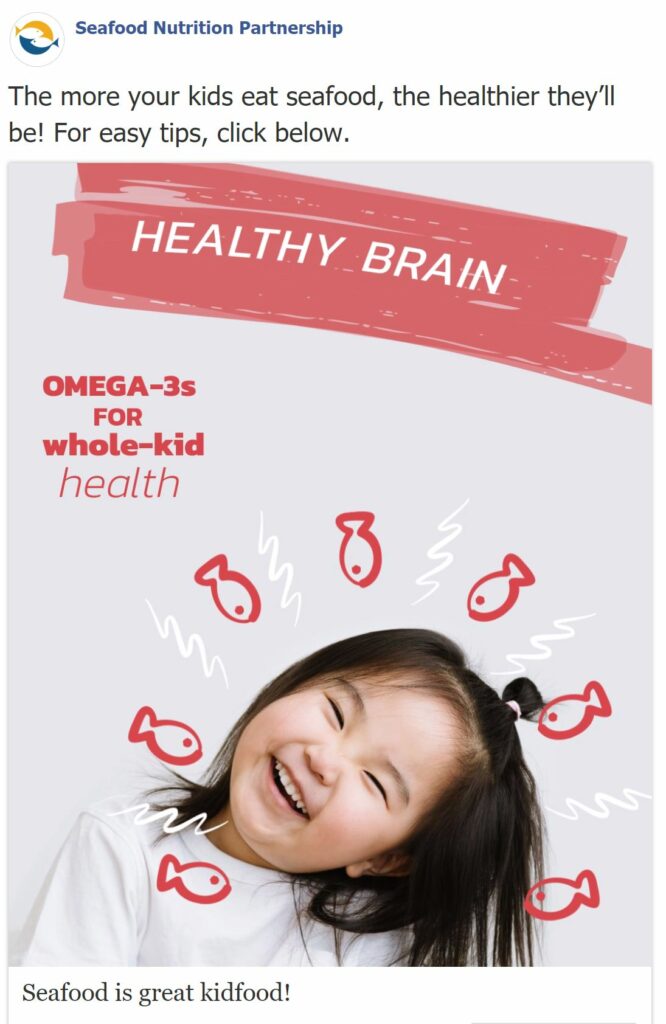 Seafood Nutrition Partnership (SNP) is reeling in moms and kids to the great health benefits of eating more seafood and growing Little Seafoodies. SNP recently completed an eight-week digital pilot campaign in Indianapolis, where seafood dollar sales grew by 2.4% promotional period year-over-year, generating a 300% return on investment. The next step is to develop expansion plans and conduct a fundraising campaign to scale this digital campaign nationwide.
SNP Impact in Indianapolis for the period of March 1 – April 25, 2019:
Achieved 3X on project investment with seafood dollar sales up 2.4% YOY. For a $100,000 investment, generated a return of more than $300,000 in sales.
Reached more than 300,000 moms through 7.5 million impressions over an 8-week period.
The reduced perception that "kids won't eat seafood" by 35%.
64% of Indy moms intended to serve more seafood after exposure to ads.
13.5% increase in the positive sentiment of seafood within the market area over the three months prior.
"SNP has developed a model that works to empower and encourage moms to serve seafood to their kids more often and begin to build habits towards eating seafood at least twice a week, which is recommended by the Dietary Guidelines for Americans," said Judson Reis, SNP Board Member and Gorton's president & CEO.
Seafood Nutrition Partnership is the leading charitable non-profit in the U.S. helping Americans to eat more seafood for better health. SNP was founded in 2013 and has been moving the needle on seafood consumption through public health campaigns.
This campaign is extremely important at this time as the Centers for Disease Control and Prevention reports that consumption among kids is on a downward trend. This is reinforced by a new study from the American Academy of Pediatrics that U.S. children are not eating enough seafood and therefore missing out on the important brain health benefits.
"The downward trend on seafood consumption among kids is not good news and we urgently need to build the next generation of seafood consumers now – for their health and the health of the planet," said Linda Cornish, SNP president.
Building on SNP's previous work, Indianapolis was selected as the most "typical" city in America, and the pilot was conducted utilizing advanced digital technologies to target moms with young kids from March 1 to April 25. SNP tested campaign concepts by delivering messages on growing Little Seafoodies to moms' cell phones, social media feeds, on their favorite blogs, and on morning lifestyle shows. All in all, more than 300,000 Indy moms received our messages around 24 times during the 8-week campaign.
"Seafood Nutrition Partnership's work is making a difference and is a unique approach in our industry. We invite you to join us as we work to increase seafood consumption and make America smarter and healthier," said Steve Hart, SNP Board Chair and Global Aquaculture Alliance vice president.
About Seafood Nutrition Partnership
Seafood Nutrition Partnership (SNP) is a national non-profit with a mission to inspire a healthier America by empowering seafood consumption as part of a balanced diet. SNP is addressing the country's public health crisis through education programs that inspire Americans to incorporate more seafood and omega-3s into their diets for improved health as per USDA/HHS Dietary Guidelines for Americans, the American Heart Association, and many other leading health organizations. For more information, visit seafoodnutrition.org or follow @Seafood4Health and #Seafood2xWk on social media.