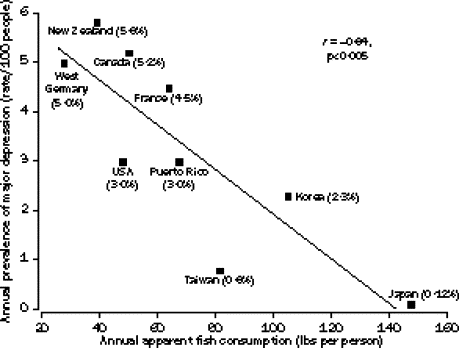 People who live in countries that eat more fish have less depression.9,10 The chart at left shows population-based levels of depression per country mapped to annual seafood consumption. Japan, Taiwan and Korea, all with high levels of seafood consumption, rank low for prevalence of major depression.
Cultural eating patterns and diets rich in seafood, such as a Mediterranean Diet, are noted to reduce inflammation, one of the ways eating fish appears to reduce depression.11-13
Eating 2-3 servings of seafood a week significantly reduces the risk for major depression, which is why the American Psychiatric Association endorse the omega-3 fatty acids in fish as an effective part of depression treatment.
"The notion of 'prevention' is relatively new to the mental health field but emerging evidence suggests that diet can have a significant impact on the risk of developing mental health disorders," said Dr. Robert McNamara, Professor of Psychiatry and Behavioral Neuroscience at the University of Cincinnati College of Medicine. "For example, consuming fish, a rich source of long-chain omega-3 fatty acids, has been found to be protective against the development of major depressive disorder. This is also supported by evidence that different mental health disorders, including bipolar disorder, depression, schizophrenia, and ADHD, are all associated with low blood long-chain omega-3 fatty acid levels."
Remember, improving nutrition takes time. When we change our diet, it can take several weeks to feel any significant improvement. Other types of self-care are important, too, such as physical activity, getting fresh air, connecting with friends and family, rest and sleep.
---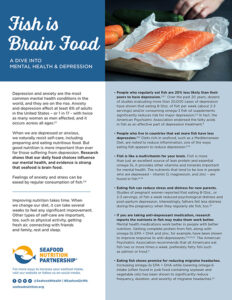 It is important to remember that our daily food choices influence our mental health as much as other self care such as physical activity, connecting with friends and family, and sleep. And the evidence is strong that seafood is brain food.
---
References
9 McNamara RK. Role of omega-3 fatty acids in the etiology, treatment, and prevention of depression: Current status and future directions. J Nutr Intermed Metab, 2016;5:96-106.
10 Hibbeln JR. Fish consumption and major depression. Lancet, 1998;351:1213.
11 Jorgensen D, et al. Higher dietary inflammation is associated with increased odds of depression independent of Framingham Risk Score on the National Health and Nutrition Examination Survey. Nutr Res, 2018;54:23-32.
12 Lai JS, et al. A systematic review and meta-analysis of dietary patterns and depression in community-dwelling adults. Am J Clin Nutr, 2014;99(1):181-197.
13 Sánchez-Villegas A, et al. Seafood Consumption, Omega-3 Fatty Acids Intake, and Life-Time Prevalence of Depression in the PREDIMED-Plus Trial. Nutrients 2018, 10(12), 2000.