Anxiety and depression affect at least 6% of adults in the United States – or 1 in 17 – with twice as many women as men affected, and it occurs across all ages.1,2
People who regularly eat fish are 20% less likely than their peers to have depression.3,4,5 Over the past 20 years, dozens of studies evaluating more than 20,000 cases of depression have shown that eating 8-12oz. of fish per week (about 2-3 servings) and/or consuming omega-3 fish oil supplements significantly reduces risk for major depression.3,4 In fact, the American Psychiatric Association endorsed the fatty acids in fish as an effective part of depression treatment.6
Remember, improving nutrition takes time. When we change our diet, it can take several weeks to feel any significant improvement. Other types of self-care are important, too, such as physical activity, getting fresh air, connecting with friends and family, rest and sleep.
---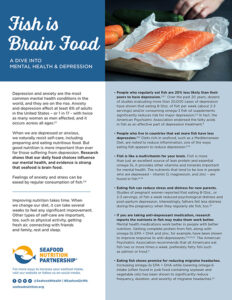 It is important to remember that our daily food choices influence our mental health as much as other self care such as physical activity, connecting with friends and family, and sleep. And the evidence is strong that seafood is brain food.
---
References
1 World Health Organization. Depression and other common mental disorders: Global health estimates. Geneva, Switzerland. 2017.
2 Brody DJ, Pratt LA, Hughes J. Prevalence of depression among adults aged 20 and over: United States, 2013-2016. NCHS Data Brief, no 303. National Center for Health Statistics. 2018.
3 Grosso G, et al. Dietary n-3 PUFA, fish consumption and depression: A systematic review and meta-analysis of observational studies. J Affect Disord, 2016;205:269-281.
4 Li F, Liu X, Zhang D. Fish consumption and risk of depression: A meta-analysis. J Epidemiol Comm Health, 2016;70(3):299-304.
5 Sanchez-Villegas A, Henriquez P, et al. Long chain omega-3 fatty acids intake, fish consumption and mental disorders in the SUN cohort study. Eur J Nutr, 2007;46(6):337-346.
6 Freeman MP, et al. Omega-3 fatty acids: Evidence basis for treatment and future research in psychiatry. J Clin Psychiatry, 2006;67:1954-1967.