CELEBRATING WOMEN'S HISTORY MONTH WITH A SHOWCASE ON PIONEERS & INNOVATORS IN THE SEAFOOD INDUSTRY
Did you know that 50% of people in global seafood production are women? There are some incredible women pioneers, innovators, and seafood champions who are part of the Seafood4Health Action Coalition. This Women's History Month, we recognize these women, advocating for nutritious – and incredibly delicious – seafood! 
SNP partnered with SAGE (Seafood and Gender Equality) to bring you this incredible showcase of women in the seafood sector. SAGE is an initiative that works to build gender equality and women's empowerment in global seafood production. 
Let's celebrate the strength and beauty of women. From salmon to lobster, pollock to oysters, the nutritious benefits of seafood are important to women's health. 
Without the incredible people who work tirelessly behind the scenes, we wouldn't have access to the delicious, sustainable seafood we enjoy.
Thank you so much for supporting the seafood industry and the people behind the seafood we eat!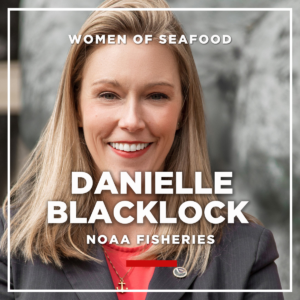 As Director of the Office of Aquaculture, she oversees the aquaculture component of NOAA's sustainable seafood portfolio. "Working with our staff and stakeholders, I am leading a strategic vision to foster a strong and sustainable marine-aquaculture industry in the United States. Key to these efforts are increasing permit efficiency, improving public perceptions, and supporting research to address industry barriers."
What is your hope for women in the seafood industry?  Today we have a strong cadre of women in ocean science and natural-resource management. I think the dynamic is different than it was perhaps 30 years ago. A lot of credit is due to the women who came before us, those who challenged the status quo. I hope that women continue to strive to break down barriers and play an active role in community health, sustainability, and STEM. There are many types of careers in seafood, all open to women, and it is important that women see those careers as available to them. Whether she becomes the CEO of a company driving innovative engineering approaches to sustainable aquaculture, the captain of a fishing vessel, or any of the other myriad of career options, knowing she is needed and welcomed is important.
Why are women important in the seafood industry? One of the greatest challenges facing many organizations and industries involves creating and maintaining a community that reflects the rich diversity of our country. The case for diversity and inclusion is clear: a team is more productive and innovative when there is a diversity of skills, ideas, and experiences. In seafood there is immense opportunity for advancing the health of people, the planet, and the economy. In order to harness these opportunities we must have a variety of perspectives as a part of the conversation, and the voices of women is a critical piece of that.
Favorite seafood recipe: BBQ Bourbon Chipotle Butter Grilled Oysters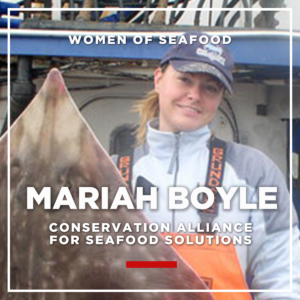 Executive Director for the Conservation Alliance for Seafood Solutions, a global community of stakeholders working together to improve the sustainability and responsibility of seafood supply chains, for our ocean and the people who depend on it.
What is your hope for women in the seafood industry?  That all women in the seafood industry have safe, equitable, and meaningful work and have opportunities to be leaders in the field.
Why are women important in the seafood industry? Women are an essential component of the workforce, play an important role connecting households and communities, and bring creative and innovative thinking to projects. Valuing and amplifying the work of women will greatly benefit the industry, people, and our planet.
Favorite seafood recipe or tip: Mussels with shallots in a white wine sauce has been a favorite this winter!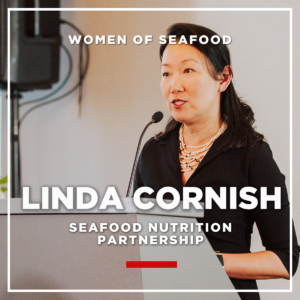 President for Seafood Nutrition Partnership, a charitable non-profit empowering Americans to eat more sustainable seafood for better health.
What is your hope for women in the seafood industry?  My hope for women in the seafood industry is that they will use their unique super powers to improve this important industry that is so vital for our health and future food security.
Why are women important in the seafood industry? Women are important in the seafood industry because they bring new energy, talent, creativity that will help drive improvements and growth for the industry.
Favorite seafood recipe or tip: Seafood is delicious and easy to add to meals. Best tip is to add fish and shellfish to something familiar such as burgers, tacos, salads, pasta, and sandwiches. For tasty and healthy recipes, go to seafoodnutrition.org.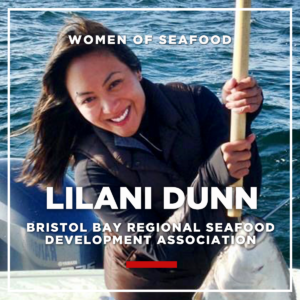 Marketing director for the BBRSDA and its brand, Bristol Bay Sockeye Salmon. She is a board director for the Northwest Fisheries Association and the chairwoman for ASMI's Domestic Marketing Committee. She serves as co-chair of NFI's Future Leader Class Project subcommittee and is also a committee member of the NFI Communications program.
What is your hope for women in the seafood industry?  In over ten years, I have yet to meet a woman in the seafood industry that has not impressed me. I hope that those of us that are in the industry stay with it and encourage, inspire, and welcome more diversity into this great industry, in every sector and at every part of the supply chain from water to plate!
Why are women important in the seafood industry? Representation matters. In order for seafood to compete with other proteins in the food industry, it is important to make sure that our decision making tables have a collection of people with different experiences and backgrounds to successfully bring seafood to consumers around the globe and not an echo chamber.
Favorite seafood recipe or tip: My favorite way of having a skin-on, sockeye portion. Take a small oven proof pan, put on high heat with a drizzle of oil. Place skin side down for 4 minutes, while cooking, place a square of butter on top and drizzle with honey. Place in a hot oven (375 degrees) for 2-5 minutes depending on how you like your salmon cooked! You can have the crispy skin or easily remove this way.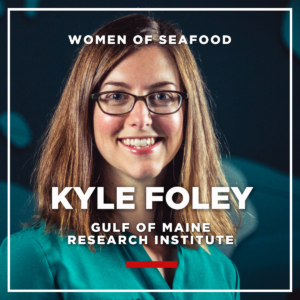 Gulf of Maine Research Institute's seafood program works to strengthen the economic and ecological sustainability of the Gulf of Maine's seafood industry by partnering with businesses to build demand and value for regional seafood.
What is your hope for women in the seafood industry?  My hope is for women to be represented equitably in leadership across the industry – on the water, in the supply chain, and in support organizations.
Why are women important in the seafood industry? Women have always been important in the seafood industry – and if we want the seafood industry's future to be innovative and sustainable for communities, women need to continue to be a part of leading the way there.
Favorite seafood recipe or tip: Recent favorite is a super easy Bon Appetit recipe: take any flaky white fish fillets (I've used it with pollock, haddock, hake, etc), toss with vegetable oil, salt/pepper, and minced ginger, then pan sear and add chopped scallions halfway through cooking. Fast and delicious.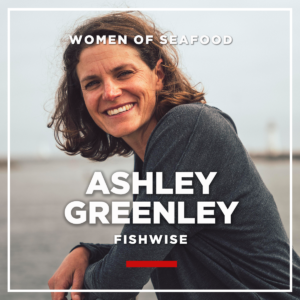 Sustainable Seafood Consultant
What is your hope for women in the seafood industry?  I would love to see a shattering of the proverbial glass ceilings and see more women in leadership positions. I'd love to grow up believing my daughters will have the same opportunities to succeed as their male counterparts. I'm encouraged that there seems to be an increasing awareness about gender bias in seafood- it's a start -but we still have a long way to go.
Why are women important in the seafood industry? Women comprise almost half of the global seafood workforce yet their contributions tend to be overlooked. The driving factors behind gender bias are complicated and systemic- but the implications are obvious when women in leadership positions remain an exception rather than a norm.
Favorite seafood recipe: I'm based on the West Coast so my heart belongs to rockfish and lingcod. Here are some recipes from Positively Groundfish.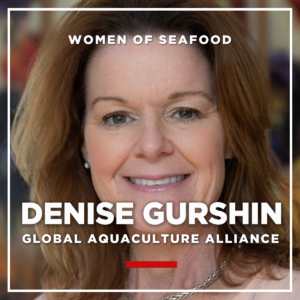 Global Business Development Manager for Supply Chain Engagement at the Global Aquaculture Association. "My role in the Seafood Industry has evolved significantly over the years, from raising tilapia while serving in the Peace Corps to collaborating with fantastic teams across North America to Asia, and now at the GAA, educating facilities about responsibly raised seafood. At my core, I have always enjoyed nurturing the sustainable growth of a fish, as well as a business, while educating others about the merits of seafood along the way."
What is your hope for women in the seafood industry?  My hope for everyone in the seafood industry is that they are able to have a career where they can take pride in their work, with an organization that values them. A career where hard work and tenacity are rewarded, not only with health care and compensation, but genuine acknowledgement for a job well done.  I have had an amazing opportunity to find my purpose, see the world, meet amazing people, be challenged and contribute.  My hope is that others are able to have careers where they can have such positive experiences, as well.
Why are women important in the seafood industry? In 2018, Natalia Briceño-Lagos and Marie Christine Monfort published a fantastic paper, "Putting Gender Equality on the Seafood Industry's Agenda" that really resonated with me.  Globally, 700 participants (male and female) responded. Briceño-Lagos and Monfort reported, women represent half of the seafood workforce worldwide, yet the majority remain in the background, invisible, and beyond the attention of decision-makers.  I would highly recommend reading their findings, for seafood is global and fragmented and as such, one cannot generalize about this subject within the industry but it is clear in reading their analysis that we need to do better.
My experience has been that the industry has made great strides in gender equity, and therefore there are great opportunities that are opening up for women.  I have had the honor of associating with fantastic colleagues and mentors during my seafood career, both male and female.  My hope is that more and more talented, smart, innovative, motivated people enter the seafood industry. 
Favorite seafood recipe or tip: I have two right now, Maine oysters on the half shell – just open & enjoy – and this recipe from Maine Aquaculture Association of Maine Mussels with Thai Coconut Curry.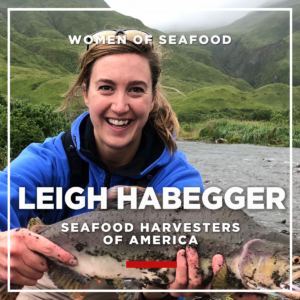 Executive Director for a national commercial fishing organization
What is your hope for women in the seafood industry?  It's been incredible to watch the rise of so many talented women in this industry over the last few years. We are seeing more and more women on the decks of fishing vessels, in the processing and supply chain sectors, and onshore where they're covering everything from supply chain logistics to running Fishermen Wives' Associations to working on fishing policy and regulations.
Many women have paved the way and served as role models and mentors for me and I hope that as we continue working in this industry, our presence on boat decks and in policy discussions becomes less of an anomaly.
There's a general consensus amongst the fishermen I work with, men and women, that they are proud to harvest a sustainable, wild protein source for American consumers. I hope that our collective efforts succeed in educating the public about the sustainability of our domestic seafood products, their enormous nutritional benefits, and the importance of eating seafood and supporting the commercial fishing industry. We are the heartbeat of many coastal communities and we are proud of our work.
Why are women important in the seafood industry? The seafood industry has its unique challenges. Women and men have worked together tirelessly to educate the public about the benefits of eating locally caught seafood, especially during Covid, and to advocate for the needs of our industry. I'm thrilled to see new ideas and perspectives brought to bear as we continue tackling pressing issues.
The U.S. is heralded as the global gold standard in fisheries management thanks to the efforts of fishermen, scientists, managers, and stakeholders, many of whom are women. As more diverse perspectives are incorporated into management and the problem-solving process, I anticipate we'll see even more innovative approaches and lasting solutions for the future of our industry.
Favorite seafood recipe or tip: Keep it simple – butter, lemon, garlic, salt and pepper. Can't mess it up and it's guaranteed to be delicious!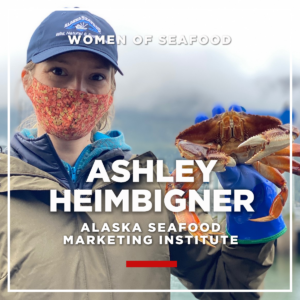 Communications Director for the Alaska Seafood Marketing Institute. ASMI's mission is to increase the value and positive awareness of Alaska's incredible seafood for Alaskans and Alaska harvesters and industry members.
What is your hope for women in the seafood industry?  My hope is that women in the seafood industry are recognized for the important and foundational contributions they are already making to sustainable fisheries and seafood businesses around the world and that we continue to come together to celebrate these accomplishments.
Why are women important in the seafood industry? Women play integral roles in all aspects of the Alaska seafood industry. From fisheries management decisions to captaining tenders, they keep our fish and our industry moving.
Favorite seafood recipe/tip: I love the simplicity of a beautiful fillet portion with a little oil or butter, your favorite seasonings and quick, high heat. Put any Alaska fish fillet on a sheet pan and broil for 4-8 minutes (depending on the species and size) and you have a fast and incredibly nutritious, delicious sustainable protein to add to just about anything.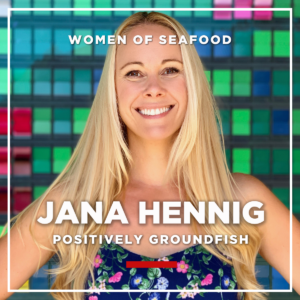 Executive Director of Positively Groundfish (aka Nonprofit Leader, Sustainable Seafood Advocate, Seafood Marketing Expert)
What is your hope for women in the seafood industry?  My hope is that women who feel passionate about the oceans and good seafood feel confident and excited about a fulfilling career in the seafood industry, that they make their unique voices heard and leave their mark in this field.
Why are women important in the seafood industry? It goes way beyond women. The more the seafood industry's workforce and boardrooms look like a representation of the American population, the better it will be at serving America and staying relevant in the long-run.
Favorite seafood recipe or tip: I think smoked Black Cod is the most underrated but outrageously delicious delicacy in seafood.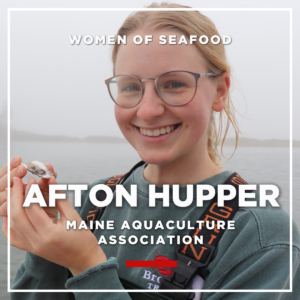 Outreach & development specialist for the Maine Aquaculture Association. Over the past year she's been involved in and led the charge on a number of marketing initiatives and campaigns designed to promote Maine seafood. "I'm thrilled to be able to work with some hardworking, creative, and passionate women on these projects, many of whom I am lucky to call close friends," she said.
What is your hope for women in the seafood industry?  I hope that women continue to be recognized for the important work that they do in the seafood industry, particularly as essential workers. Globally, women fill a large portion of seafood processing jobs – jobs that have often been overlooked. I think the pandemic has brought the importance of these jobs to light, and allowed consumers to think of food producers, processors, and grocers as heroes. I hope this heightened level of visibility continues beyond the pandemic, and we are able to do more (in the US and abroad) to support the women who are working hard to put food on our tables.
Why are women important in the seafood industry? Women serve a vital role in the seafood industry around the world, and especially here in Maine. We are lucky to serve such a diverse, energetic and hardworking group of individuals in the Maine aquaculture industry – many of which are women. While men still make up the majority of aquaculture business owners in Maine (as well as commercial fishing captains), it's been exciting to witness an increase in the number of women who are interested in starting a business on the water, whether it be farming, fishing, or other marine trades. Women still face many obstacles in these trades, and it's our job to support and empower them in any way we can.
Favorite seafood recipe: My favorite seafood dish is a classic Maine crab roll. It's simple and easy to prepare! All you need to do is mix fresh Maine crab meat with a bit of mayo, salt and pepper, and load up a buttered, toasted hot dog bun (I like potato buns). It's unbelievably delicious.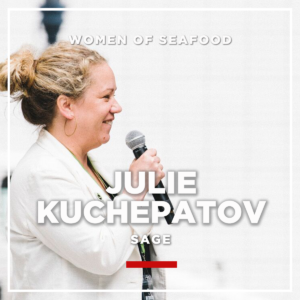 Founding Director of SAGE, an initiative to uplift, amplify, and integrate diverse women's voices in global seafood production and build gender equality and women's empowerment in the seafood sector.
What is your hope for women in the seafood industry?  My hope is that the industry begins to realize that we must recognize the hidden women behind our seafood and value their immeasurable contributions to global seafood production. If we are ignoring 50% of the people who have a role in bringing seafood to our table, is it really sustainable?
Why are women important in the seafood industry? Women are found in every link in seafood supply chains and conduct most of the unpaid, underpaid, and unrecognized work. 50% of people in global seafood production are women, so it is safe to say we wouldn't have an industry if there weren't any women! Women are also important to this industry because they bear the brunt of environmental challenges in coastal communities that will only increase as global climate change remains unaddressed. Women bring local knowledge and innovative solutions to address all of these challenges, so we must ensure that any solutions we create put women front and center.
Favorite seafood recipe: My favorite seafood recipe is one from my days in Russia and it's simple and delicious. Pan fry any whitefish, like cod or sole; cook white rice; assemble your fish and rice bowl with rice on the bottom, add a dollop of mayonnaise and mix. Place the fish on top. On top of the fish, sprinkle a good helping of fresh, chopped dill. It is soooo good!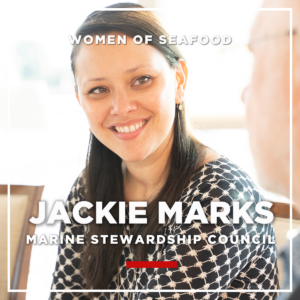 To tell the stories of people and companies ensuring wild seafood is available for generations to come (i.e. – Public Relations, Communications)
What is your hope for women in the seafood industry?  To see more women in decision making positions lifting other women up throughout the industry.
Why are women important in the seafood industry? Representation matters, as does perspective. Women bring a different and necessary perspective to issues of sustainability, justice, equality, and fairness. All of those qualities matter at every level of the industry, no matter if you're selling a product, in marketing, or in the C suite.
Favorite seafood recipe: I love cooking seafood for a multitude of reasons (taste! nutrition! versatility!) but one of seafood's best kept secrets is how quick it cooks. My go-to weeknight seafood dish is salmon with your choice of marinade under the broiler for 10 minutes. Serve that with some rice and steamed broccoli and you've got a well-rounded dinner in no time.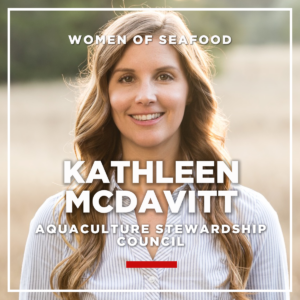 As US Market Development Manager, her role is to expand awareness among North American businesses and consumers about the Aquaculture Stewardship Council's certification and labeling program to drive more environmentally and socially responsible farmed seafood production.
What is your hope for women in the seafood industry?  I hope more women choose to enter the traditionally male-dominated seafood industry and use their passion for sustainability and social justice to influence positive changes to seafood production, processing, distribution and consumption.
Why are women important in the seafood industry? Womens' diverse life experiences, leadership styles and goals can only benefit the seafood industry by helping it evolve and adapt for future generations. Different voices are needed now more than ever to tackle the big challenges facing the industry.
Favorite seafood recipe or tip: I love cooking all sorts of seafood in many different ways, but I am currently obsessed with the pan-fried salmon with pine nut salsa recipe in the Ottolenghi Simple cookbook my sister gave me for Christmas.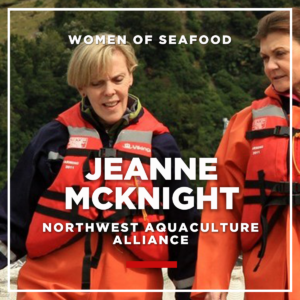 "I've always worked in the industry as a coalition-builder and communications strategist. Currently, I am Executive Director of an aquaculture advocacy organization based in the Pacific Northwest, and working with others in similar roles on global issues related to aquaculture and aquatic foods."
What is your hope for women in the seafood industry? Make your career in seafood–and you'll never regret it! And then, make a difference.
While seafood is a global industry, the seafood world is really a very small world. I think there are more opportunities for women in seafood than just about anywhere else, and for sure–at least in my experience–male mentors have really encouraged women in their various career paths. For sure, this is true in aquaculture, where women have been tapped for many leadership roles and where there are obvious opportunities for advancement.
Why are women important in the seafood industry? In the seafood industry, in particular, women have been strong leaders in both the nutrition and health arena AND the sustainability movement. I am thinking here of my good friend, the late Jeanne von Zastrow, who headed up the Seafood Sustainability Committee for the Food Marketing Institute. She really motivated seafood retailers to pay attention to their suppliers and their customers, and because of her work, supermarkets "upped" their game in selling higher quality, more responsibly farmed and caught seafood.
When I first started out in the industry, working as communications director for the West Coast Fisheries Development Foundation, and later, ASMI, women were either home economists, accountant/bookkeepers, or marketing & communications professionals. Fast forward 30 years and women are running companies and setting global agendas–working alongside our male counterparts to keep moving the industry forward.
Favorite seafood tip: I fondly remember working with a home economist, writing seafood recipes. Every single recipe started with this particular tip–for finfish and shellfish (fresh and frozen), it works every time: RINSE; PAT DRY WITH A PAPER TOWEL! Do not skip that important step!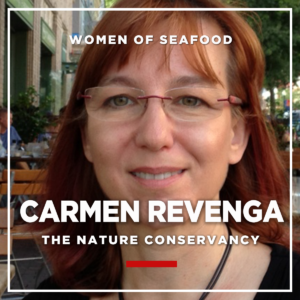 Lead The Nature Conservancy's sustainable fisheries strategy
What is your hope for women in the seafood industry?  More representation of women's voices in the industry and recognition of the important role women play in the sector all over the world.
Why are women important in the seafood industry? Women are engaged in many aspects of seafood, from fishing, to processing and in sales and conservation.
Favorite seafood tip: Always aim to remove the fish before it is fully cooked, it will continue cooking and fish is always tastier when not overdone.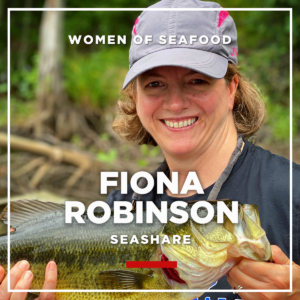 Development Director of SeaShare.
What is your hope for women in the seafood industry? Make your voice heard! Don't sit idly by and let anyone speak for you.
Why are women important in the seafood industry? Women are important in ALL industries! When I started writing about seafood in the mid '90s there were few women in leadership positions in the industry. I'm happy to say 20 years later that women are now representing all aspects of the seafood industry, from the board room to buyers to seafood harvesters and farmers!
Favorite seafood tip: Keep it Simple: Seafood shouldn't need a lot of seasoning to taste great!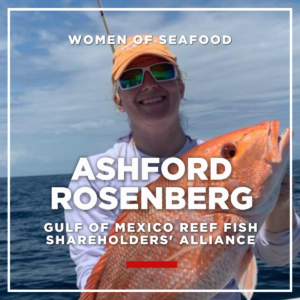 "As Policy Analyst for the Shareholders' Alliance, I enjoy working on a broad portfolio of issues and projects here in the Gulf of Mexico. The core of everything we do ties back to promoting strong fishery science and accountable fishery management, as well as ensuring sustainable seafood is available for seafood lovers across the country. Most recently, I have especially enjoyed working with fishing industry leaders region- and nation-wide to develop a training program for the next generation of forward-thinking, conservation minded commercial fishermen here in the Gulf."
What is your hope for women in the seafood industry? I hope to see the continued trend of more women in leadership positions in fisheries management, science and research, seafood companies, and fishing organizations.
Why are women important in the seafood industry? Diversity is important in every industry. Progress and innovation is the result of viewpoints and experiences from a wide range backgrounds, knowledge bases, and life experiences. The seafood industry is no exception. We need women to ensure our domestic fisheries and seafood industry can thrive.
Favorite seafood recipe: Can't go wrong with a Louisiana shrimp or crawfish boil!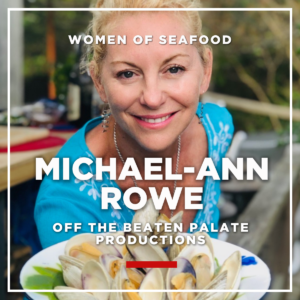 Seafood educator and seafood media content creator
What is your hope for women in the seafood industry? More women at the helm!
Why are women important in the seafood industry? More and more women are working at the docks, on vessels, in labs and processing plants, creating a more balanced and valuable industry. They are role models for generations to come.
Share your favorite seafood tip. Use the sharp pincer claw on the lobster to dig out the meat. Also, ground up lobster shells can be used as fertilizer!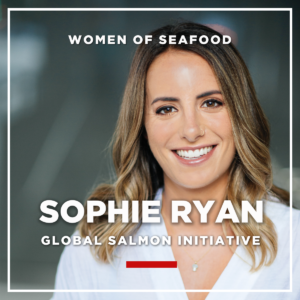 Building effective multi-stakeholder relationships to motivate and accelerate environmental improvements at speed and scale.
What is your hope for women in the seafood industry?  That we continue to mentor and encourage more talented women to join this exciting industry, and help pave the way for an inclusive and opportunity filled future.
Why are women important in the seafood industry? The seafood sector, particularly aquaculture, is evolving quickly. And to do so in the right way – sustainably – we need to draw on all possible perspectives and skills. Having more women present in the sector will bring new ideas and new approaches across all levels of the industry – from farming, communicating, management, science and so on. By being more inclusive we will see greater innovation and progress.
Favorite seafood recipe or tip: Roast salmon with lots of ginger, spring onions and soy sauce; on a bed of bok choy and veggies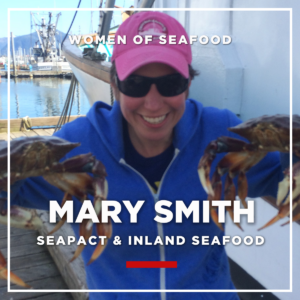 Director of Sustainability for Inland Seafood and also the Board Chair for Seapact.
What is your hope for women in the seafood industry?  To feel welcome and to trust that they have the same opportunities as anyone – whether that's on the deck of a boat or in a boardroom. I hope that women everywhere feel confident being themselves. Lately I've been thinking a lot about "authenticity" and just trying to be myself – I think that can be hard for women who may feel more pressure to hide their feelings or fit into some kind of "mold". Different molds for different jobs but at the end of the day I hope women feel confident to be themselves and that they find unique pathways to make lasting impact while feeling fulfilled and recognized.
Why are women important in the seafood industry? Bias of any kind shrinks the talent pool – we can't afford to be working with a small pool. Women offer a unique understanding of every aspect of this complex industry from the ground up – sometimes BECAUSE we are women, and sometimes because we are creative, innovative, experienced, intelligent, and thoughtful humans who happen to be women. I want women in the room because they are women AND because they are the right people for the job.
Favorite seafood recipe or tip: Buy extra fresh fish and cook it all – that way you're ready for a quick lunch or dinner the next day! Fresh salmon on the grill for dinner = cooked salmon on a salad the next day. I found an easy pickled shrimp recipe I've been digging – so when I get set up to clean a pound of shrimp for dinner, I clean two pounds – we cook up and eat what we can and then the remainder goes into the pickling recipe for the next couple days. That way you can also make a bigger batch of stock that's then on hand for later in the week!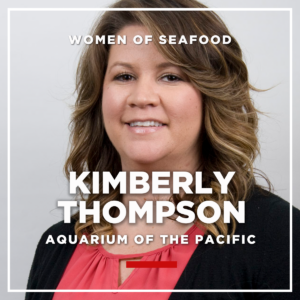 Director of a sustainable seafood program at the Aquarium of the Pacific in Long Beach, California. "We work with many different stakeholders to discuss ideas and develop solutions to leverage responsibly produced seafood as a tool to support a more sustainable and resilient food supply in the changing climate. Much of our current work is bridging the science on these topics with broader public audiences. We do this by working with colleagues to discuss and design broader education strategies and programs for formal and informal institutions and other appropriate stakeholder groups. We also produce a lot of our own educational content in the form of on-site exhibits and programming, videos, lectures, and more."
What is your hope for women in the seafood industry?  I would like to see more women in leadership positions for seafood production, including farms, fisheries, processing, and all other links in the supply chain. From small, family-owned businesses to larger corporate businesses. It's a win for the industry because data indicate that increasing women in leadership positions increases GDP and corporate profits. For example, one study showed that adding just one more woman to senior management or a corporate board is associated with 8 to 13 basis points higher return on assets. Integrating more women in leadership positions should not be viewed as an 'us versus them' proposition. It should be embraced as an opportunity to maximize benefits for and reduce risks to businesses, ecosystems, economies, and equity.
Why are women important in the seafood industry? The future of seafood, and in fact any food system, is contingent on sustainable and equitable production. Women will play an important role in helping the seafood industry realize that future. According to the United Nations, women's participation in political and higher-level decision making can increase cooperation among people with diverse perspectives, support policies and practices that are more responsive to the needs of others, and may improve the efficacy of sustainability and climate-related policies and projects. There's also some evidence that women may prioritize sustainability in business more than men. Integrating more women into leadership positions is a win for businesses, the industry, and the planet. 
Favorite seafood recipe or tip: The beauty of seafood is that less is more. From salmon to black cod, a little olive oil and salt and pepper is all you need for an amazing meal. Even a kitchen novice like me can cook good seafood with these simple ingredients.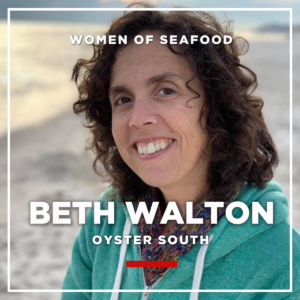 Executive Director of Oyster South, a 501(c)(3) non-profit organization that connects communities and provides resources to foster the success of oyster farming in the Southern United States.
What is your hope for women in the seafood industry?  I am hoping that we will continue to see more women in all sectors of the seafood community – education, wholesalers, shellfish farmers, chefs, etc.
Why are women important in the seafood industry? Women bring a unique perspective to the seafood industry and are integral to helping build community and strengthen existing relationships and to create new ones.
Favorite seafood tip: Always chew the oyster! I also encourage 'new oyster people' to try an oyster on the half with no toppings so they can fully experience the flavor.