It's Picnic Month! From the trees to the breeze, Seafood Nutrition Partnership offers easy solutions on how to make picnics a fun family gathering. Trying to soak up the sunshine while enjoying a delicious and nutritious meal together? Check out our tips and recipes below.
"Picnics should be a prescription for health," said registered dietitian nutritionist and TV host Annessa Chumbley. "They accomplish three amazing things needed for healthy living: nourishing the body, focusing on relationships, and soaking up the benefits of being surrounded by nature."
Fun Tips
Consider planning picnics with a refreshing option like eating seafood. Eating seafood two times per week, as recommended by the Dietary Guidelines for Americans, can provide unique health benefits as a lean protein and source of omega-3s, healthy fats that are beneficial for heart and brain health. To make it easier to create picture-perfect picnics, try these tips from Chumbley.
Pack bottles of cold or even frozen water in the picnic basket to help keep everything chilled and fresh so it's ready to devour.
Plan to eat fresh and healthy foods like this crab salad for an easy-to-make option.
Create a salmon dip nearly everyone can enjoy. Seafood can be added to almost any dip and can be enjoyed with fresh, crunchy vegetables.
Jars can be a lifesaver when packing a picnic. Tape utensils to the sides of the jars for easy access.
Don't bring phones, tablets, or any other device that can distract from family time. This is a time to relax and socialize with one another.
Try taping a thermometer inside of a bag or cooler to ensure the food is at safe, cool temperatures.
Place a small cutting board and knife in a cooler, which can come in handy for chopping up fruits and vegetables when it's time to chow down.
For more seafood recipes and meal inspiration, visit www.seafoodnutrition.org or follow the #EatSeafoodAmerica campaign on social media.
Grab This Delicious Salsa Recipe
Seared Salmon with Mediterranean Salsa
For a fun Mediterranean take on cowboy caviar, use a mix of canned and fresh veggies to top this delicious seared salmon.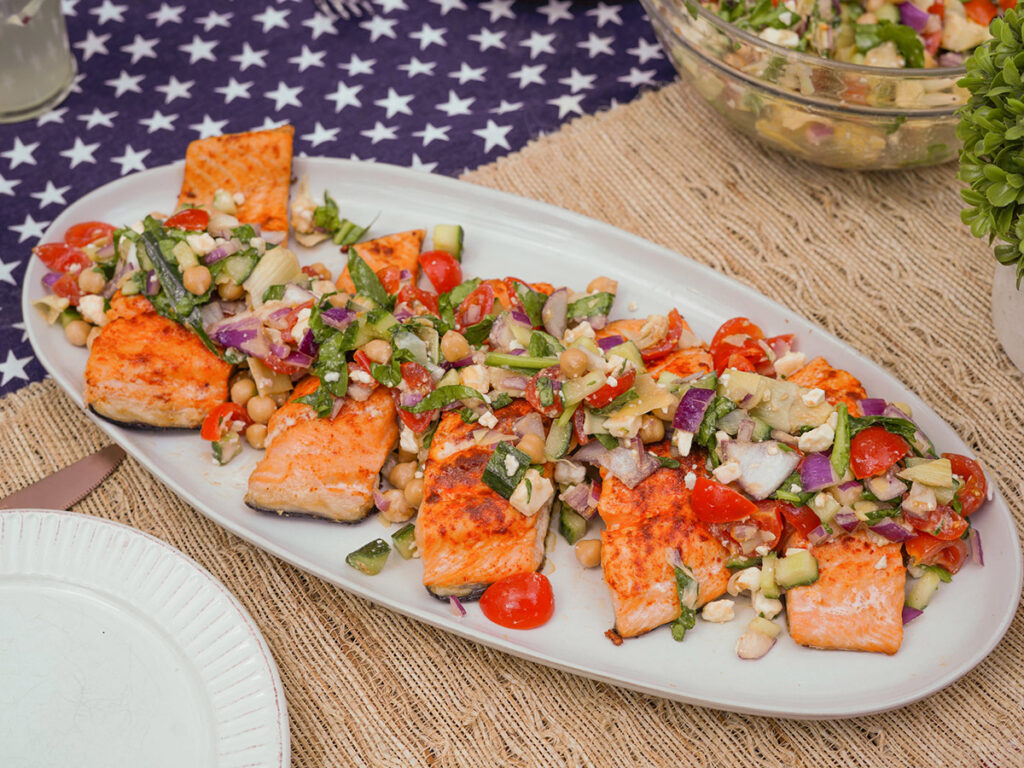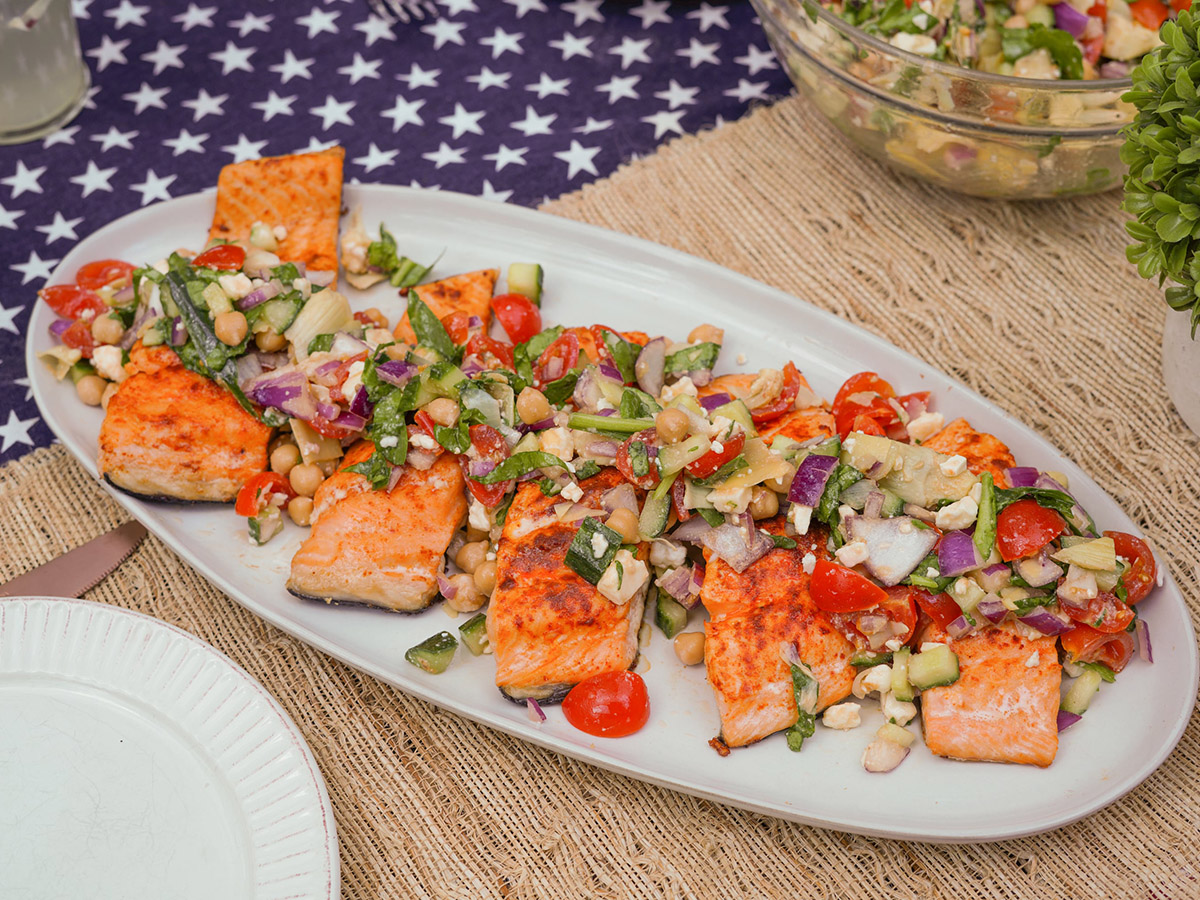 Recipe courtesy of Annessa Chumbley
Serves: 4-6
4 – 6 salmon filets about 1-inch thick
2 Tbsp. olive oil
Sea salt
1 can chickpeas, drained and rinsed
1 can quartered or chopped artichoke hearts, drained
1 cup diced cucumber
1 cup cherry tomatoes, diced
1/3 cup diced red onion
1/2 cup crumbled feta cheese
A handful of fresh spinach, chopped
Drizzle balsamic glaze
1. In a skillet over medium-high heat, add olive oil. Lay down each salmon fillet and let sear for 4 minutes. Sprinkle the top of each salmon fillet with a little sea salt. Flip and cook four minutes more, until just barely done. (Be careful not to overcook!) Remove to a serving platter.
2. In a medium bowl, make the salsa by gently folding together all ingredients: chickpeas, artichoke hearts, cucumber, tomatoes, red onion, feta, and spinach. Sprinkle with a little salt. Drizzle with balsamic glaze and spoon salsa over each salmon filet. Refrigerate any leftover salsa.
3. Serve and enjoy!