Low Omega-3 Index levels in this region correlate with a higher risk for disease
New research released in July 2019 utilized the data SNP collected in seven cities within the southeast/south-central region of the U.S. known as the "Stroke Belt." What was found was the mean Omega-3 Index levels were 4.4% – relatively low compared with the desired 8%–12% "cardioprotective target," the range shown to be beneficial to help prevent cardiovascular disease.
Researchers at OmegaQuant, Dr. Bill Harris and Dr. Kristina Jackson, analyzed the Omega-3 Index in 2177 individuals participating in free health screens organized by SNP in 7 cities in this region, Charleston, WV; Indianapolis, IN; Jacksonville, FL; Lexington, KY; Memphis, TN; Oklahoma City, OK; and Toledo, OH.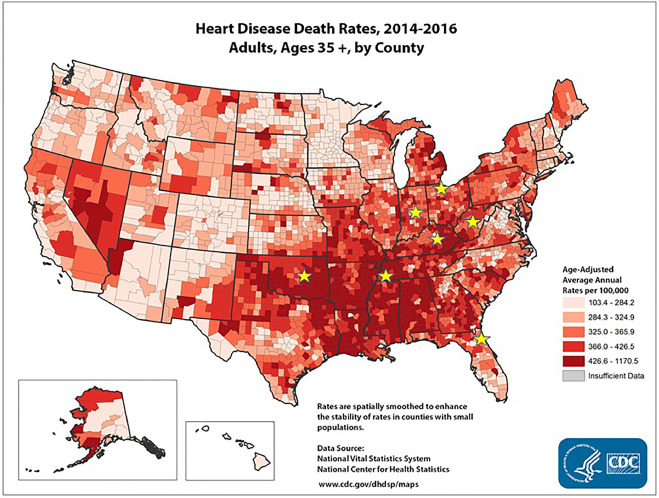 Of all the people tested, only 27 (1.2%) had an omega-3 level of 8%−12% (in the desirable range), whereas 914 (42%) had an omega-3 level of ≤4% (in the undesirable range). An O3I of 8% or more is associated with a 35% lower risk compared with an O3I of 4%.
Support for increasing fish intake comes most recently from the 2018 NIH-AARP Diet and Health study, which looked at risk for death from a variety of causes in over 420,000 older individuals as a function of reported fish intake. They found reductions in mortality from Alzheimer's disease of 38% and 24% in women and men, respectively. Reductions in all-cause mortality, CVD, cancer, and respiratory disease were all significant.
SNP would like to thank the funders who make this important work possible through their financial contributions to SNP. Please join them and contribute today.