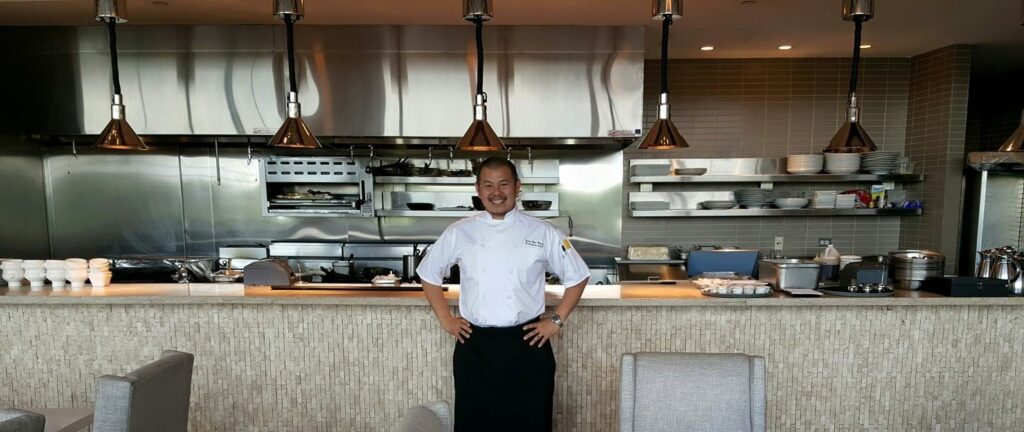 Chef Tony Hang learned at an early age that food surrounds our everyday life, and the quality of it, is a vital ingredient to great healthy living.  As a child, he would accompany his grandmother to the open supermarket, and then help her with cooking that evening's dinner.  Watching her creates culinary delights from scratch helped him to appreciate food, its ingredients and where it came from.
When he was sixteen, for a summer job, Tony found a Garde Manger position at the Radisson Hotel in Alexandria.  Within a few months, he fell in love with everything that has to do with food.  While pursuing an engineering associate degree, Tony continued to work in the culinary arts.  He abandoned the engineering field in order to follow his passion.  After ten years of training as a line cook, he served as Sous Chef at McCormick & Schmicks, then as Executive Sous Chef at the National Gallery of Art.  His résumé includes Executive Chef of the State Plaza Hotel, National Democratic Club, Nordstrom, and Regency at Dominion Valley, and Montgomery Country Club.
Chef's philosophy of food is to treat each ingredient with respect, let it shine, and not mask it.  He emphasizes on making ample use of seasonal and local produce, sustainable seafood, along with consistency, quality, and presentation because "it shows that we care".  He abides by the "5 Ps":  "proper preparation prevents poor performance." And the non-negotiable: quality, service, cleanliness.  Chef standards and systems will ensure the success of his operations because of the tools the staff will have.
Chef Tony is a trainer, coach, counselor, and financial controller.  He finds the fast-pace environment of the kitchen less stressful than one might imagine because he loves it.
​
Chef Tony lives in Tampa FL with his wife Karina and their children Cristian, Nicolas and Daniella.  During his downtime, he loves to take his family on a day trip or an occasional round of golf.