2021 State of the Science Symposium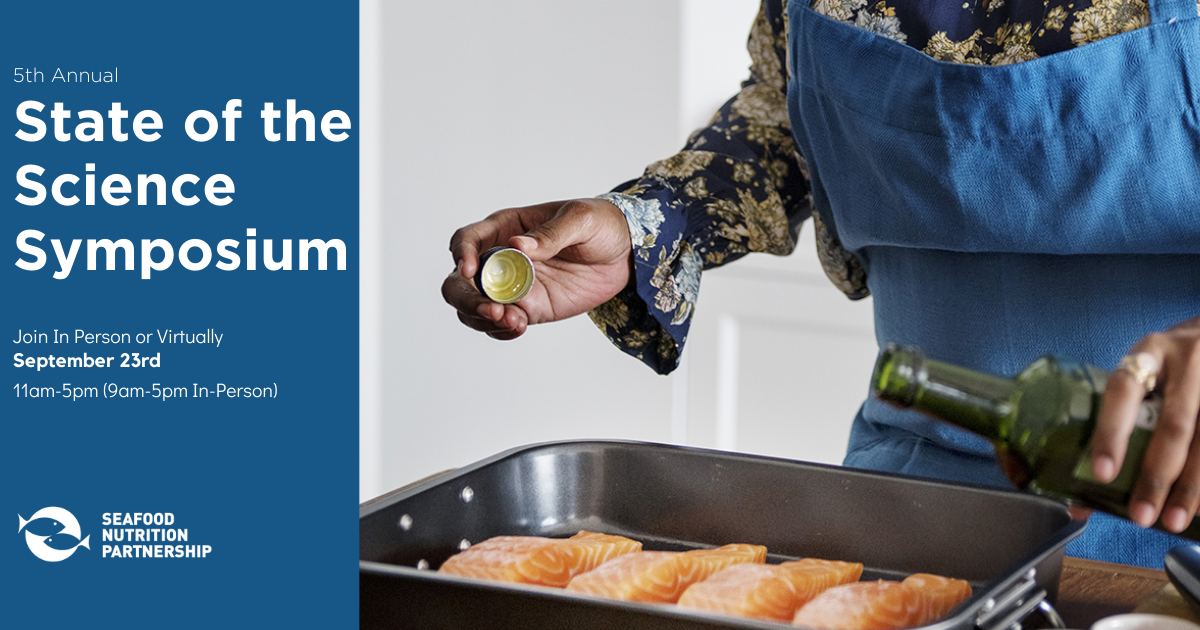 The Seafood Nutrition Partnership's Scientific Nutrition Advisory Council is delighted to host the 5th annual State of the Science Symposium on Thursday, September 23, 2021.
This annual event provides a forum for global leaders in human nutrition to outline the latest consensus on all aspects of seafood nutrition.
Please note the in-person event begins at 9 AM EDT
Please note the virtual event begins at 11 AM EDT
Agenda
Pre-Symposium Networking: 9:00 to 11:00am ET (In-Person Only)
Official Program: 11:00am to 5:00pm ET (In-Person and Virtual)
09:00am – 10:45am Pre-symposium networking, breakfast, health check
10:30am – 11:00am Pre-event Networking with Virtual Attendees
11:00am – 11:10am Linda Cornish: Opening Remarks 
11:10am – 12:10pm Latest Seafood Nutrition Science Updates
Dr. Tom Brenna:

Translating the DGA 2020-2025  

Dr. Susan Carlson: 

Preterm Birth  

Dr. Philip Calder:

Seafood and Immune Health

Gretchen Vannice, RDN:  

Communicating Seafood 

Health Science to Consumers
12:15pm – 1:00pm Delicious Seafood Lunch
12:40pm – 12:55pm Cooking Demo Creamy Tuscan Salmon Shrimp with Jessica Miller, RDN
01:00pm – 01:30pm Linda Cornish: Establishing a National Seafood Council & Special Guests
Dr. Paul Doremus, Deputy Assistant Administrator for Operations at NOAA Fisheries
United States Senator Lisa Murkowski, Alaska (invited)
United States Senator Roger Wicker, Mississippi (invited)
01:30 pm – 02:30 pm Latest Sustainable Seafood and Food Systems Science Updates
Dr. Ray Hilborn: 

How Sustainable is Seafood Compared to 

Other Foods (virtual) 

Dr. Michael Tlusty:

Food-Based Dietary Guidelines and

Omega-3's

Dr. David Love: 

A Role for Seafood in the U.S. Diet

Tom Grasso:

Are Blue Foods Having Their

Moment in the S

un? Seafood's Place at the UN Food Systems Summit and Beyond.
02:30pm – 02:45pm Break/Exhibits/Networking
02:45pm – 03:00pm Arlin Wasserman: Keys to Increasing the Share of Ocean Foods in Our Diet 
03:00pm – 03:45pm Q/A Panel with Scientists Dr. Tom Brenna, Dr. Susan Carlson, Gretchen Vannice, Andrea Albersheim, and Jessica Miller
03:45pm – 04:00pm Linda Cornish: Closing and Open Cocktail Reception
04:00pm – 05:00pm Jessica Miller, RDN: Reporting Live from the Cocktail Reception
This program produced by the SNP Scientific Nutrition Advisory Council brings together experts in this space. Educational presentations will merge technical analysis and accessible information for non-specialists.