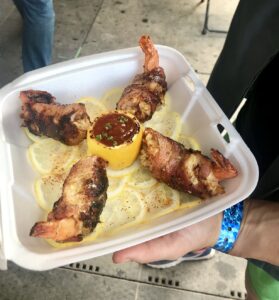 Congratulations to Sugarfire Smokehouse from St. Louis for winning the seafood category at this year's Memphis in May World Barbecue Cooking Contest! Seafood Nutrition Partnership is a proud sponsor of the 2018 Memphis in May Seafood Competition, which had more than 100 submissions this year!
The team from Sugarfire Smokehouse won with their Sugarfire Shrimp recipe (below if you'd like to try at home). The second and third place winners were Too Sauced to Pork and Uncle Murles BBQ Team.
You can view all of the 2018 winners here.
Sugarfire Shrimp
Ingredients
15 Shrimp
16 oz. jumbo lump crab meat
¾ cup Duke's mayonnaise
½ sleeve Ritz crackers (crumbled)
1 Tbsp. Old Bay seasoning
3 Tbsp. scallions, sliced
3 Tbsp. red pepper, diced
15 strips of bacon
1 lemon
½ cup ketchup
1 Tbsp. horseradish
1 Tbsp. Worcestershire sauce
1 Tbsp. Hot Charlies hot sauce
Directions
Butterfly and clean shrimp and lay out on cutting board.
Lightly mix crab, mayonnaise, Old Bay, Ritz crackers, scallions, and red pepper.
Stuff 2 Tbsp. crab mix evenly into shrimp.
Wrap each shrimp with 1 slice of bacon.
Smoke shrimp at 300 degrees for 25 minutes.
While smoking, make cocktail sauce by mixing ketchup, horseradish, Worcestershire and hot sauce.
Serve shrimp with lemon and cocktail sauce.