As meat shortages impact the grocery aisles, keep in mind that across the country, freezers are stocked with seafood! This is a great time to use seafood swaps in burgers, tacos, pizzas, pastas, skewers, salads and more! Bonus: It's good for our health and the planet's health. 
The Seafood Nutrition Partnership staff have always liked to experiment in the kitchen and try out new recipes, and we're here to share some of our learnings. This is a great time (if but out of necessity) to learn how to swap different ingredients into favorite dishes or even try a new recipe. Below, we'll talk about ideas for swapping seafood into your family's favorite foods, talk about how different species of seafood can be swapped into dishes, and also share some tips on how we are creatively using items from our pantry to make recipes work when we don't have all the correct ingredients on hand.
Also, check out our blog post about using canned or frozen seafood and another about our favorite comfort foods with seafood.
Seafood Swaps
Seafood works for all of your family's favorite foods – even comfort foods! Think fish and shellfish when making burgers, tacos, pizza, salad, sandwiches, and more!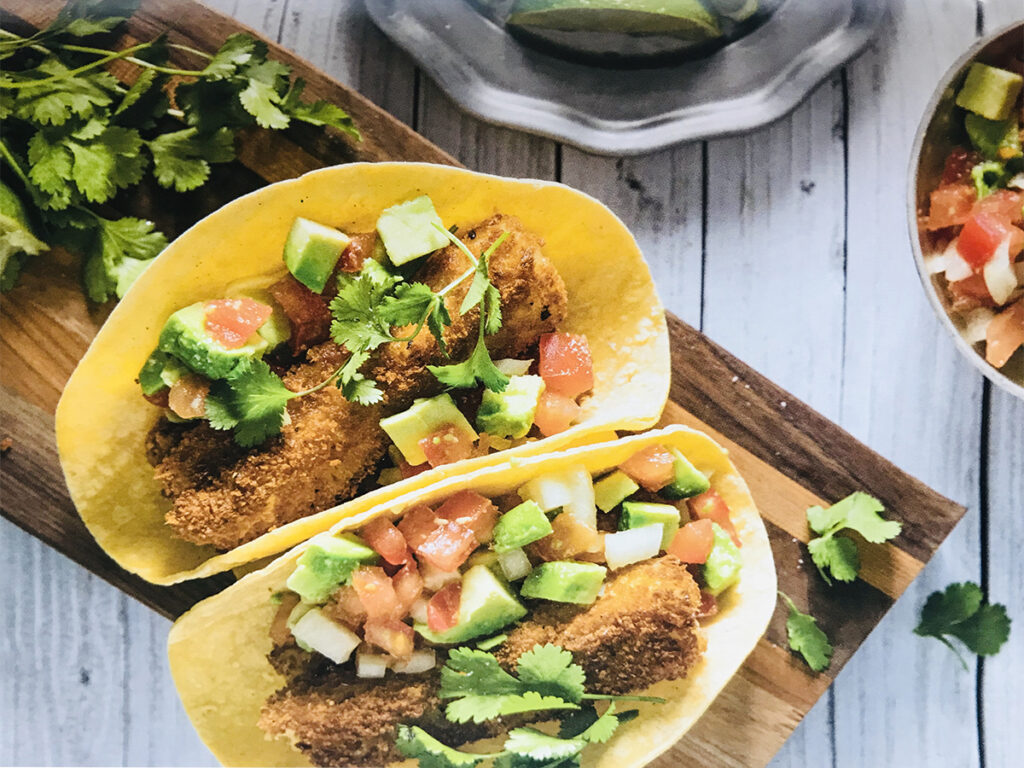 Tacos:

This is arguably the easiest place to add seafood. Any fish as well as shrimp, lobster and scallops are all perfect vehicles for taco seasoning. Here are a couple of our favorite recipes (and

we have dozens of variations

):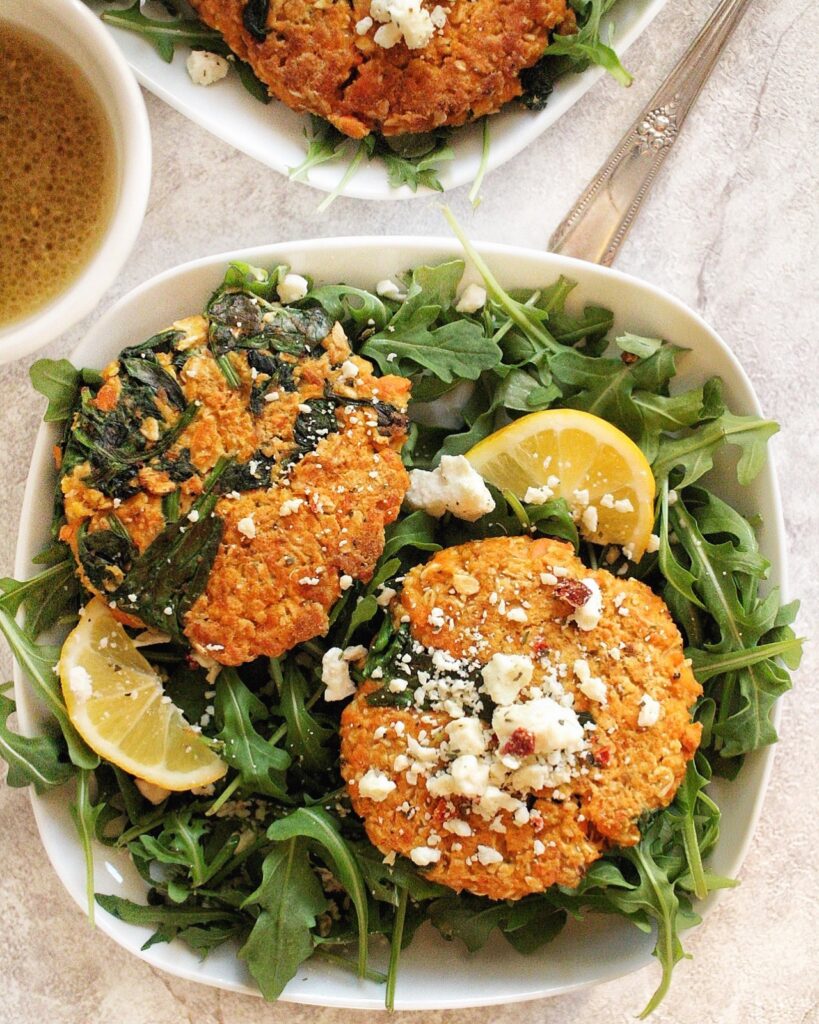 Burgers:

There are several types of seafood-based burgers available at grocery stores across the country, including salmon, Alaska pollock, shrimp and mahi mahi. But, you can also make them at home! Any "cake" recipe – think crab cakes – can be sized up for a full-size burger or just make mini sliders!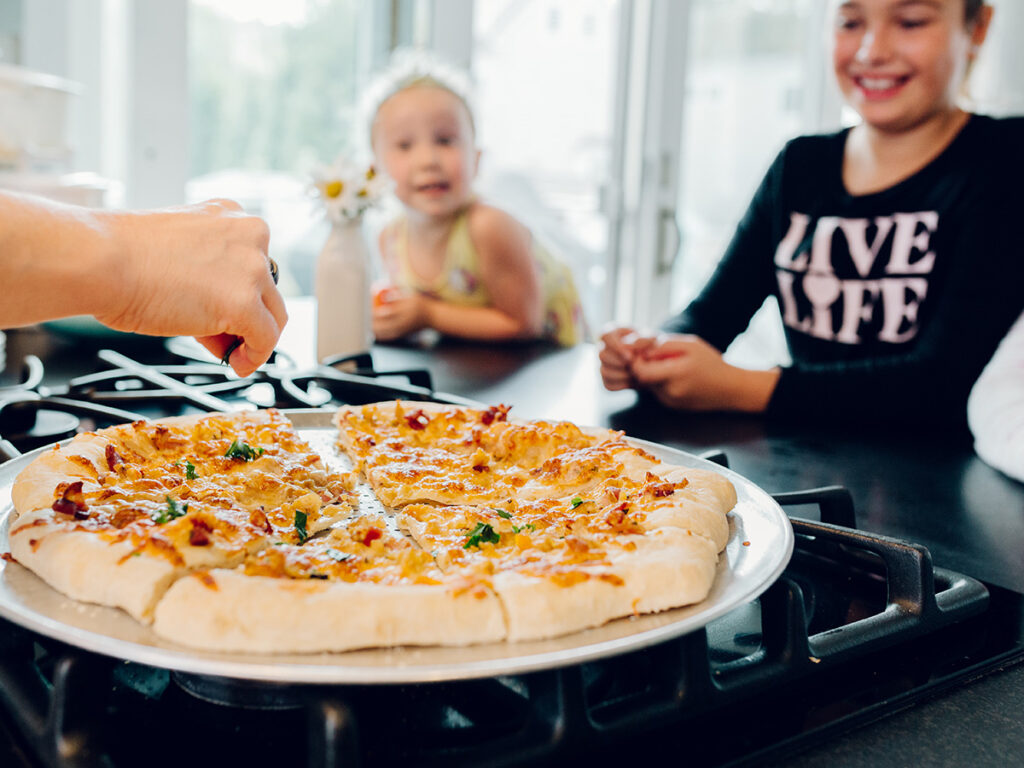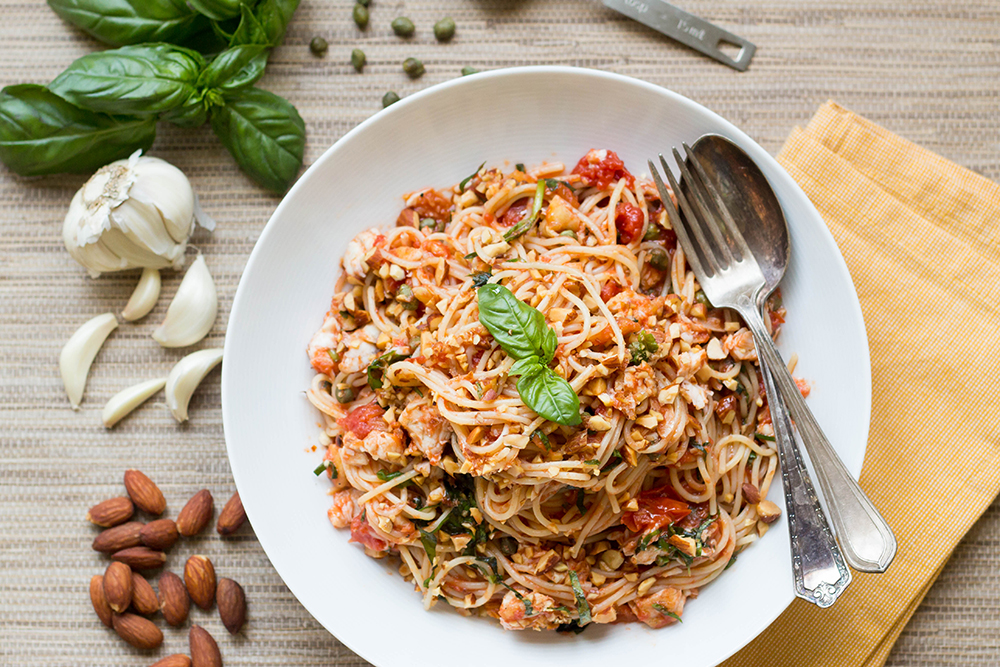 Pasta

: Our ultimate comfort food! Pasta is so easily customizable that it's a great way to use those ingredients you have on hand. Any fish or shellfish – shrimp, lobster, scallops, clams, and mussels – can be added to pasta.

Here are some tips

on ways to incorporate healthy vegetables, as well. These are a couple of our favorite pasta recipes:
What Seafood Should I Buy?
In our Ultimate Guide to Buying Seafood and Ultimate Guide to Cooking Seafood, we share a lot of information about utilizing different species of seafood, as well as offer tips to make the most of what you can find at the grocery store. This includes lists of fish that have similar qualities such as taste profiles and cooking techniques.
If you're looking for:
A light, delicate fish

. Choose a lean fish, such as barramundi, sea bass, cod, flounder, grouper, haddock, halibut, mahi mahi, perch, pollock, red snapper, rockfish, sole or yellowfin tuna. For shellfish, shrimp, crab and lobster are light and lean.

For a richer taste.

Choose a fattier fish usually with darker flesh, such as herring, mackerel, salmon, sardines, swordfish, trout or albacore tuna. Several shellfish varieties fit in this rich category and offer delicious briny flavor, such as clams, mussels and oysters. 
In terms of cooking style, if you want to:
Grill: Many fish stand up to the heat, and it can bring out a delicious smoky flavor. Pick a variety that is firmer in texture, such as catfish, mahi mahi, salmon, scallops, shrimp, snapper, swordfish or tuna. Many fish also are great on grilled skewers!
Steam or poach

: Try lean fish – mild-flavored with tender, white or pale flesh – such as sea bass, cod, flounder, grouper, haddock, halibut or pollock.

Broil or bake

: Try a medium-fat fish, such as bluefish, catfish, salmon or swordfish. 

Eat it without having to cook it

: Choose a precooked fish that's frozen (so you just have to warm it up), or opt for canned tuna, salmon, sardines or crab.
White fish is generally the best example of these "species swaps." White fish is simply a mild-flavored, often slightly-sweet fish, which can be interchangeable in recipes. These include wild Alaska pollock, bass, cod, grouper, haddock and halibut. There are also some thinner fillets of white fish, which can be used in these recipes but keep in mind they cook much faster, including flounder, perch and sole. Learn all about these white fish options in this blog post.
To sum it up: Let availability and freshness be your guides. It's easy to substitute one fish for another in a recipe. Also, keep in mind the frozen and canned sections offer the same health benefits and often a wider variety to choose from.
Recipe Ingredients on Hand
Right now, you may not be able to find all the ingredients to try out a specific recipe and we're here to offer some easy swaps for some popular ingredients. Some general tips: 
Fruits and vegetables can swap in recipes. For example, if you want to make

this Smoked Salmon and Kale Frittata recipe

that calls for kale, try spinach or even frozen spinach, just make sure you wring out excess liquid. Keep in mind for baking, the liquid in a recipe can throw off the end texture or the baking time.

Acidic liquid ingredients such as lemon juice and vinegar can be swapped, just keep in mind the end flavor profile. It's a great time to use those random bottles of vinegar at the back of your pantry! 

We always recommend using a lot of herbs and spices for flavoring, and only add salt if needed. Experiment with different flavor combos using those dried herbs you bought for a specific recipe months ago. We've been playing around with different spices in our tuna and salmon salads and found curry is amazing paired in this stample! (

Try this recipe

.)
Here are some tips to use ingredients you have on hand for cooking fish dishes:
| | |
| --- | --- |
| Recipe calls for: | Try swapping: |
| Buttermilk | Yogurt, or milk with a small amount of lemon juice or vinegar added |
| Bread crumbs | Rolled oats, crushed cereal, or crushed crackers |
| Cream (half and half) | For one cup, 7/8 cup milk plus 1 Tbsp. butter |
| Cream (heavy) | For one cup, 3/4 cup milk plus 1/3 cup butter |
| Cream cheese | pureed cottage cheese |
| Garlic (clove) | One clove of garlic = 1/8 tsp. garlic powder |
| Herbs (fresh) | 1 Tbsp. chopped fresh = 1 tsp. dried herbs |
| Lemon zest | Approximately double the quantity of lemon juice |
| Mayonnaise | Avocado, plain Greek yogurt, sour cream |
| Sour cream | plain Greek yogurt |
| Wine | Broth, fruit juice mixed with a splash of vinegar |
Check out more recipe swaps, especially those good for baking, here.