Eat Seafood, America Campaign Downloads & Social Shares
Here's How You Can Help:
Eat seafood and buy seafood. It's as simple as that! Buy it online or order pick-up from purveyors, restaurants, mail-order, grocery stores.
Post a photo of your meal, tag it with #EatSeafoodAmerica.
Repeat. Keep supporting our nation's seafood community by eating seafood and buying seafood as often as you can.
And, remember, we're here to support our communities and fellow Americans – be nice and stay positive. Thank you!
Themes to Support #EatSeafoodAmerica this Summer
Download the partner toolkit

here

.
Summer Inspired by Seafood
Summer Starts June 20
(Lobster Day is June 15)
Sample Social Post
As the summer begins, so do the outdoor gatherings. Keep your family full and healthy with fresh summer seafood recipes everyone will enjoy. #EatSeafoodAmerica For summer seafood inspiration, check out: https://www.seafoodnutrition.org/summer-seafood/
Photo by @jennyshearawn
Recipe Roundup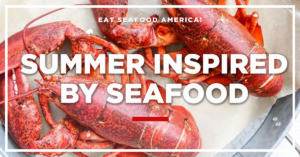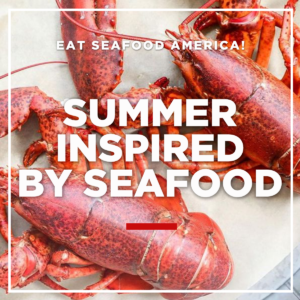 Healthier & Happier with Seafood
June is Men's Health Month
(Father's Day is June 20)
Sample Social Post
June is Men's Health Month, so we're supporting a longer, happier, and healthier life with seafood. Fish and shellfish are packed with nutrients that support brain and heart health, improve physical performance, and regulate metabolism and body temperature. So support men's health with us by consuming seafood at least twice a week! #seafood2xwk Let's #EatSeafoodAmerica
Blog Post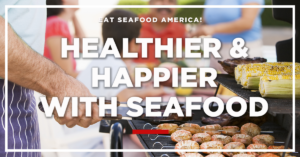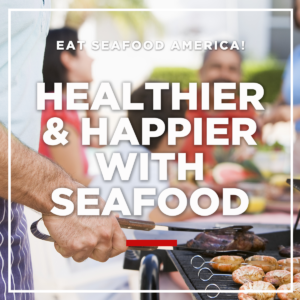 Seafood Is Brain Food
June is Alzheimer's and Brain Awareness Month
Sample Social Post
Eating fish is associated with better brain health as we age. People who eat seafood regularly are associated with a 20% lower risk for Alzheimer's type dementia. Plus, eating fish is linked to lower rates of depression. For Alzheimer's and Brain Awareness Month, don't forget to treat your brain right and eat #Seafood2xWk! #EatSeafoodAmerica https://www.seafoodnutrition.org/seafood-101/healthy-living/healthy-aging/
Blog Posts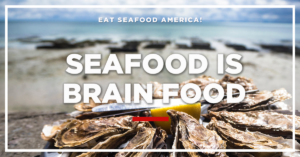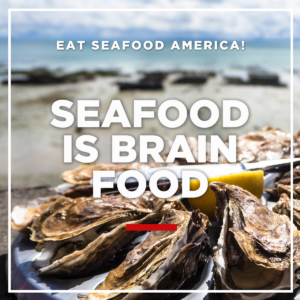 Seafood: Great on the Grates
Sample Social Post
From newbies to grill masters, anyone can cook seafood on the grill. Check out this simple grill guide for all your seafood grilling needs: https://www.seafoodnutrition.org/seafood-101/cooking/your-mini-guide-to-grilling-seafood-perfectly/ #EatSeafoodAmerica
Blog Posts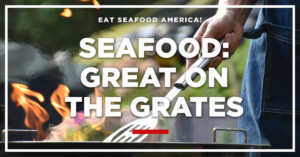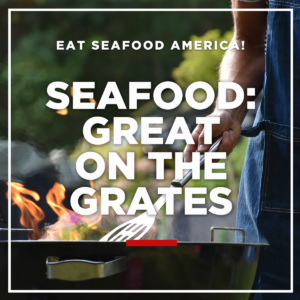 Campfire Cooking: Enjoy the Great Outdoors
June is National Camping Month
Sample Social Post
Cooking over an open fire doesn't have to be boring. Drop those traditional camping meals and try adding seafood options to your menu! Roast that fresh-caught fish, broil oysters over an open flame, or try a salmon dog, pollock burger or shrimp skewers! #EatSeafoodAmerica
(Note: Recipe series is coming soon!)
Additional Graphic Options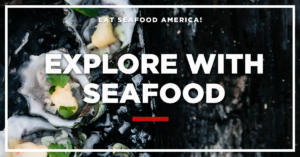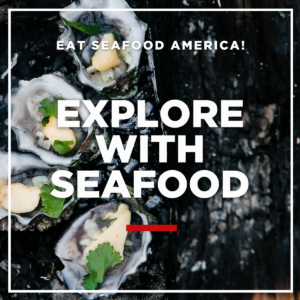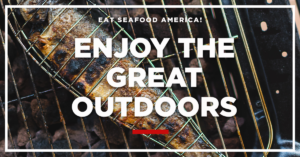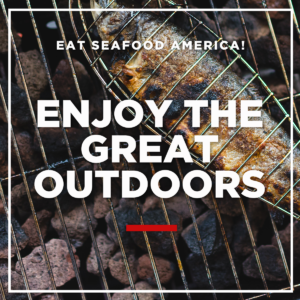 Celebrate With Seafood
Outdoor entertaining leading into Fourth of July
Sample Social Post
Bored with the usual foods you eat at outdoor gatherings? Replace them with healthy and delicious seafood options. We've got you covered with recipes for the grill (including amazing kabobs), picnic foods, fun fruit salsas and more! https://www.seafoodnutrition.org/summer-seafood/ #EatSeafoodAmerica
Recipe Roundup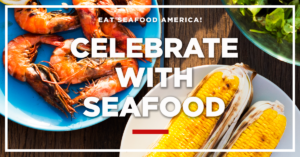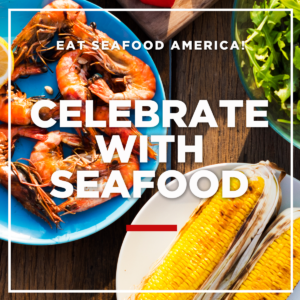 Healthy & Delicious for All
Family & Friend Gatherings leading into Fourth of July
Sample Social Post
As we celebrate summer with our family & friends, remember everyone's favorite seafood dishes – they are delicious & healthy! DYK, the new dietary guidelines recommend that people of all ages eat seafood at least twice a week (you can do that!). #EatSeafoodAmerica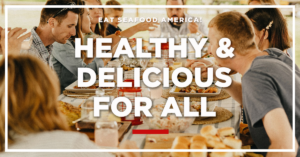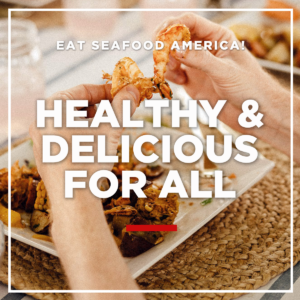 Life Can Be a Picnic
July is National Picnic Month
Sample Social Post
Celebrate National Picnic Month by gathering around the picnic table and enjoying the great outdoors with seafood on your plate! Picnics can be easy and nutritious with tasty options like crab dips, seafood salad and shrimp pasta salad. Click for perfect picnic #recipes: https://www.seafoodnutrition.org/summer-seafood/ #EatSeafoodAmerica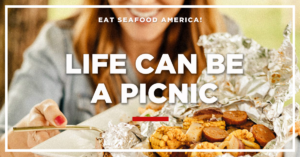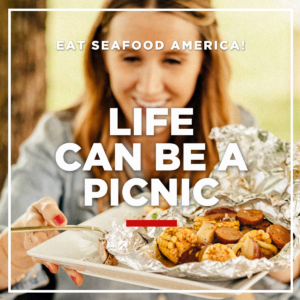 Take Your Tastebuds on an Adventure
Sample Social Post
Traveling to new places means trying new things, especially new seafood dishes. Take your tastebuds on an adventure this summer with different flavors, species, and textures. Check out recipes: https://www.seafoodnutrition.org/recipes/ #EatSeafoodAmerica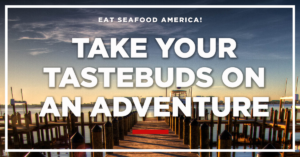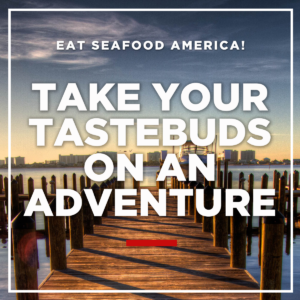 Little Seafoodies: Big Yums + Big Brains
Sample Social Post
When kids eat at least two servings of seafood each week, the benefits are big. Fish and shellfish supply the nutrients, vitamins and #omega3s essential for strong bones, brain development, and a healthy heart and immune system. https://www.seafoodnutrition.org/seafood-101/littleseafoodies/benefis-of-seafood-for-kids/ #EatSeafoodAmerica #Seafood2xWk
Posts & Links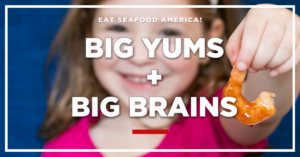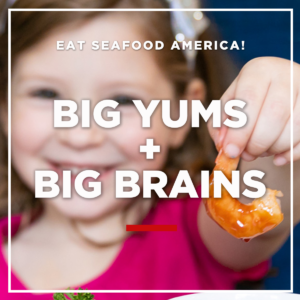 Seafood Is Simple
Many fish dishes cook in 15 minutes or less
Sample Social Posts
Need something quick and easy for #dinner? Most seafood cooks in 15 minutes or less. For #recipe inspiration, visit https://www.seafoodnutrition.org/recipes/?fwp_dietary_considerations=quick-meals #EatSeafoodAmerica
Good rule of thumb: Try the 10-minute rule, which says you should measure the fish at its thickest point, and cook it on medium-high for 10 minutes per inch, turning halfway through the cooking time. #EatSeafoodAmerica #RealSimple #DYK #EasyDinner
Life can be complicated, especially during these times. Meals can be simple with seafood. Need a quick #recipe? Many fish dishes can be made in 15 minutes or less. Plus, if you didn't plan ahead, seafood can be cooked from frozen! Check out this blog post for more #tips https://www.seafoodnutrition.org/seafood-101/recipe-roundup/simple-seafood-recipes/ #EatSeafoodAmerica #weeknightdinner #athome