Eat Seafood, America Campaign Downloads & Social Shares
Here's How You Can Help:
Eat seafood and buy seafood. It's as simple as that! Buy it online or order pick-up from purveyors, restaurants, mail-order, grocery stores.
Post a photo of your meal, tag it with #EatSeafoodAmerica.
Repeat. Keep supporting our nation's seafood community by eating seafood and buying seafood as often as you can.
And, remember, we're here to support our communities and fellow Americans – be nice and stay positive. Thank you!
Welcome to the Eat Seafood America! Communications Calendar Toolkit for September and October 2021,
a free resource for you to share the health benefits of eating more seafood as recommended by the Dietary Guidelines for Americans.
Themes to Support #EatSeafoodAmerica this Fall:
Seafood Is Simple
Stay Strong With Family Meals
Seafood Twice A Week
Download the full partner toolkit PDF

here

.
Seafood Is Simple
Many fish dishes cook in 15 minutes or less
Sample Social Posts
Need something quick and easy for #dinner? Most seafood cooks in 15 minutes or less. For #recipe inspiration, visit https://www.seafoodnutrition.org/recipes/?fwp_dietary_considerations=quick-meals #EatSeafoodAmerica
Wondering what you should eat for dinner tonight? Seafood is the perfect main dish because it's so simple to cook, healthy for you, and really delicious! #EatSeafoodAmerica #Seafood2xwk
Good rule of thumb: Try the 10-minute rule, which says you should measure the fish at its thickest point, and cook it on medium-high for 10 minutes per inch, turning halfway through the cooking time. #EatSeafoodAmerica #RealSimple #DYK #EasyDinner
Life can be complicated. Meals are simple with seafood. Need a quick #recipe? Seafood cooks fast. Plus, if you didn't plan ahead, seafood can be cooked from frozen! #EatSeafoodAmerica
Forgot to take your seafood out of the freezer to thaw? Don't worry, you can cook some seafood frozen! Find out how in our blog post, link in our bio. #EatSeafoodAmerica https://www.seafoodnutrition.org/seafood-101/cooking/frozen-to-table-easy-tips-for-cooking-frozen-seafood/
Links to Useful Resources
Seafood 101: Ease of Cooking
With new consumers trying seafood at home, it's important to support them with new recipes and tips to make sure those continued purchases result in delicious meals. How can we make meal prep and cooking easier? Here are some topics you can highlight:
Simple techniques for cooking seafood
1-3 minutes cooking videos
3- or 5-ingredient recipes
Cook from frozen
Foil packets or one-pan dishes
Retail pre-seasoned or cooked options
Tinned and smoked products
Simple storage techniques
Recipes
(Fish 'n Chips Photo by Gorton's Seafood)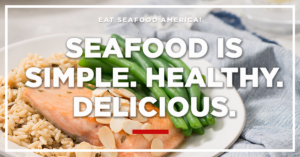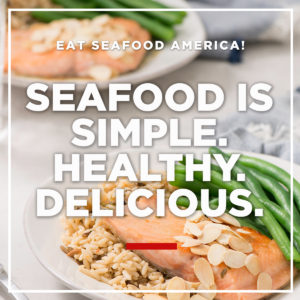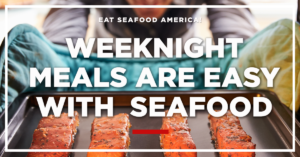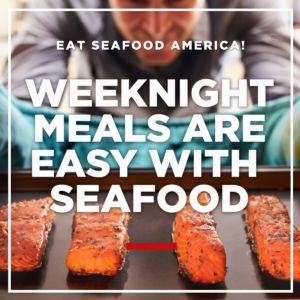 Stay Strong with Family Meals
Help make fish dishes fun & affordable
While the global pandemic created a socially distanced world, family meals have been keeping us together – in person and virtually with our extended families. Let's help families eat well together to be well together.
Sample Social Posts
Seafood belongs on everyone's table! Not only is seafood a great source of protein, but each species is packed with different nutrients to keep you and your family happy and healthy. Thinking of adding seafood to your family's table more often? We've got five reasons why you should! https://www.seafoodnutrition.org/advice/reasons-seafood-should-be-on-your-table/ #familymealsmonth #eatseafoodamerica #seafood2xwk @FMI_org
We care about the health of you and your family and are committed to helping you make meals at home fun, affordable and healthier, offering [insert tips, promos, or mealtime solutions]. #EatSeafoodAmerica #FamilyMealsMovement
Seafood cooks in less than 15 minutes, which means you save time during those busy weeknights. Adding seafood to your plate is the perfect way to keep your family healthy and happy. What is your favorite weeknight meal? Let us know in the comments below! #EatSeafoodAmerica #Seafood2xwk
Mealtime can be an afterthought. We're here to be your ally—the solution to your dinner dilemma. [LINK to blog post or recipes] #EatSeafoodAmerica #FamilyMealsMovement
We're committed to help you make #familymeals at home fun, affordable and healthier. Comment below to let us know how we can support you in getting health family meals on the table. #StrongerTogether #EatSeafoodAmerica
Need something quick and easy for #dinner? Most seafood cooks in 15 minutes or less. For inspiration, visit: http://www.seafoodnutrition.org/recipes #SeafoodMonth #EatSeafoodAmerica
Links to Useful Resources
Sample Blog Post
Easy Seafood Cooking Tips for Busy Families
Cook it from frozen: Alaska Seafood Marketing Institute offers a series of tasty recipes called Cook It Frozen!®. Frozen seafood can be prepared in as little as 10 minutes. You can also stock up on frozen seafood when it's on sale.
Stock up on canned seafood: When you're at the grocery store, grab canned, tin or pouch seafood (especially when on sale). Canned seafood often offers a more reasonably priced option and can be tossed into salads or pastas for an easy meal.
Cook it once, eat it twice: Try doubling recipes to get ahead on cooking and have a dinner or lunch ready for later in the week. Recipes that freeze well, such as stews and casseroles, are great to double. Also, consider cooking an extra piece of fish to use on a salad or in a sandwich the next day.
Grab-and-go options: the easiest cooking tip of all is to grab pre-prepped seafood from your local grocery store to just bring home and heat!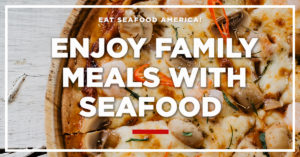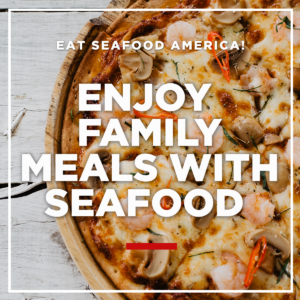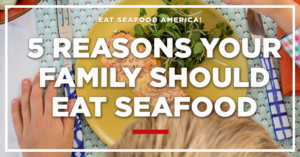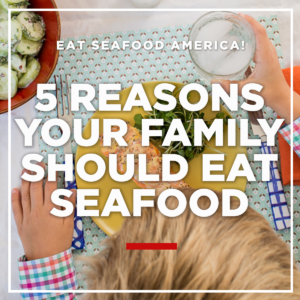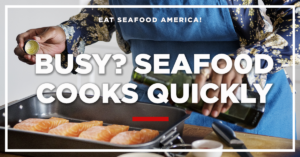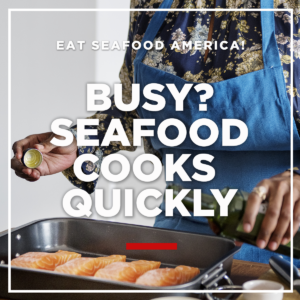 (Pollock Taco Photo by Trident Seafoods)
Seafood Twice a Week
Live Healthier & Happier with Seafood
Sample Social Posts
Pack your plate with seafood and smiles by creating a delicious and flavorful meal that your family will love. Don't forget: the goal is to eat seafood twice a week to see the health benefits! #EatSeafoodAmerica #Seafood2xwk
#DYK the goal is to eat seafood at least twice a week to reel in the health benefits? That's only 2 meals out of 21 during the week! Leading health organizations including @american_heart encourage eating fish & shellfish to support your heart, brain, and immune system. #EatSeafoodAmerica #Seafood2xWk
Health Benefits of Seafood
Immune Health
Now, more than ever, people are looking for ways to "boost" their immune system. Seafood, both fish and shellfish, provides essential nutrients to the body that support immune health.
Seafood is a nutrient-packed food that reduces inflammation with vitamins A, B, and D, as well as omega-3 fatty acids and minerals such as calcium, selenium, phosphorus, iron, zinc, iodine, magnesium and potassium.
Zinc helps the immune system fight off invading bacteria and viruses, and is found in abundance in oysters. Other shellfish such as crab and lobster as well as some fish like sardines, salmon, flounder and sole are a good sources of zinc.
SOCIAL POST: Seafood helps support your immune health. Good nutrition is essential to support a strong immune system, and seafood is nutrient-packed with antioxidants and anti-inflammatory vitamins, minerals such as selenium, iron and zinc, and omega-3s. https://www.seafoodnutrition.org/seafood-101/support-your-immune-health-with-seafood #EatSeafoodAmerica #immunehealth
Stress & Anxiety
When we are depressed or anxious, we naturally resist self-care, including preparing and eating nutritious food. But good nutrition is more important than ever for those suffering from depression. Research shows that our daily food choices influence our mental health, and evidence is strong that seafood is brain food.
SOCIAL POST: Seafood has the vitamins needed to boost your mood and calm your mind. #LearnMore https://www.seafoodnutrition.org/seafood-101/health-tips/seafood-is-brain-food-anxiety-stress #EatSeafoodAmerica
FACT SHEET: A Dive into Mental Health & Depression
Sleep
SOCIAL POST: With all that is happening, a lot of people are struggling right now to get a good night's sleep. Eating seafood has been shown to improve sleep quality as well as daily functioning for adults and kids alike. #EatSeafoodAmerica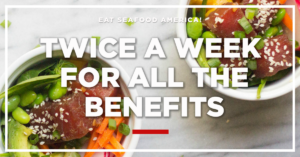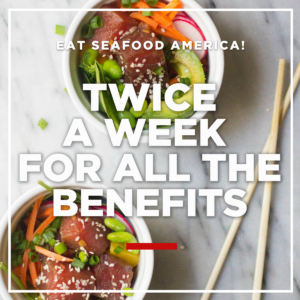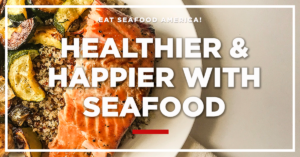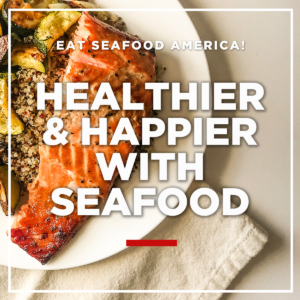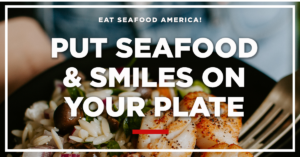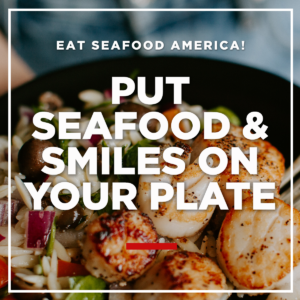 Little Seafoodies:
Back to School
Sample Social Post
When kids eat at least two servings of seafood each week, the benefits are big. Fish and shellfish supply the nutrients, vitamins and #omega3s essential for strong bones, brain development, and a healthy heart and immune system. https://www.seafoodnutrition.org/seafood-101/littleseafoodies/benefis-of-seafood-for-kids/ #EatSeafoodAmerica #Seafood2xWk
Posts & Links